Office provider IWG sees shares plunge after profit warning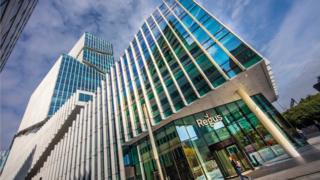 Shares in IWG have sunk more than a third after the serviced-office provider issued a profit warning.
The firm, formerly known as Regus, said an anticipated third-quarter sales recovery had been weaker than expected.
Trading in London had seen "some weakness", it said, while parts of its global business had been disrupted by the impact of natural disasters.
Investment by IWG will also raise costs, and it said annual profits would be "materially below" market forecasts.
The company is now predicting full-year operating profits of between £160m and £170m.
IWG said its spending plans may dent growth in the short term.
"We are also investing in our development capabilities to establish a strong pipeline of growth in future years," it said in a trading update.
"In the short-term, however, this will lead to additional overhead costs and new centre losses due to the timing of openings."
The reduction in revenues "is in part potentially a timing issue," IWG added, as it anticipates a "very strong uplift" in October.
IWG is facing growing competition from rivals including New York City-based WeWork.
The company has about 3,000 office spaces in more than 100 countries.