The non-stop problem solver who loves to invent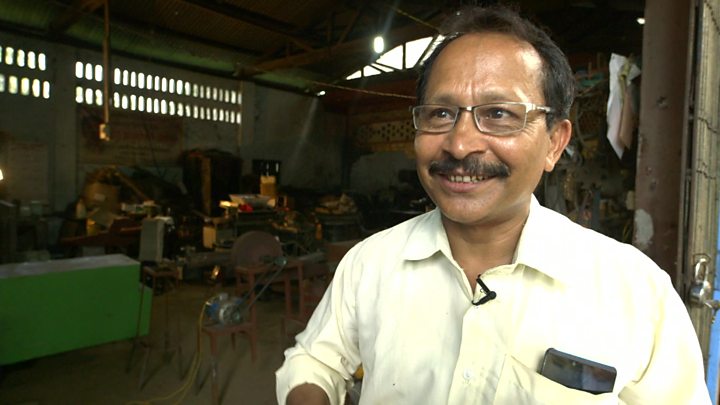 "I like to solve problems," says Uddhab Bharali.
"I like to make [people] a little more comfortable with themselves, or a little independent."
This is what drives Uddhab Bharali to keep inventing. He started making things to sell more than 30 years ago in order to help pay off a large family debt. Today it is his life's passion.
He has created more than 140 inventions, many of which are sold commercially with some winning international awards.
He says his main motivation has always been to help people. Across India he is already well-known for his agricultural inventions but his new ideas are helping those with disabilities.
He explains that because there is limited government support in India for people with physical disabilities it is up to people like him to come up with solutions.
Raj Rehman is 15-years-old and was born with congenital amputations and cerebral palsy. The simple device that Mr Bharali has made for him attaches to his forearm and is made from everyday items like Velcro fasteners and a spoon. It helps him to eat and to write.
Mr Bharali has also adapted some footwear which means Raj is able to move around much more comfortably.
"I used to worry about myself before but now I feel stress free. I don't have to worry how I will cross the railway line to reach school as now I can walk without difficulty," he says.
"I am happy that I can take care of myself."
Human ingenuity
Initially, Mr Bharali recalls that people thought he was "worthless" and it took him 18 years to establish himself as "an innovator with class".
Most of his innovations are low cost and use locally available raw materials. This type of frugal innovation is known as "jugaad". It is a Hindi term which can also translate as "ingenious improvisation".
Jaideep Prabhu is from Cambridge University's Judge Business School and has written a book about jugaad. He thinks it has a huge role to play in inspiring people to innovate:
"This is mainly because it doesn't require much more than your innate human ingenuity.
"The whole approach is designed for you to find problems that surround you in your community - problems that affect you and people like you, and then to take resources that you have access to and solve those problems," he says.
---
The BBC's Innovators series reveals innovative solutions to major challenges across South Asia.
Ever heard of the concept of "jugaad"? It's a Hindi term meaning cheap innovation.
If you have created a life hack or innovation that you are proud of, or spotted one while out and about on your travels, then share your picture with us by emailing yourpics@bbc.co.uk, use the hashtags #Jugaad and #BBCInnovators and share your picture with @BBCWorldService, or upload your submission here.
Learn more about BBC Innovators.
---
Mr Bharali makes an income from selling his inventions as well as designing technical solutions for businesses and government. But he is keen to help others make money and improve their own financial situation. He has set up a couple of centres to give people access to his machines.
At one of these centres women from the local villages are able to come and use a rice-grinding machine that he has designed. The rice flour is then made into cakes and other edible items that can be sold.
No shortcut
According to the World Bank only 27% of women in India over the age of 15 are economically active.
"We have no facilities or employment to earn our livelihood in the villages," says Porbitta Dhutta, one of the women who comes to the centre.
"Here we can use innovations to change our lives to become self-sufficient and make respectable money for ourselves and our families."
Men in rural areas have also benefitted from Mr Bharali's ingenuity. He has developed and sold over 200 cement-brick making machines. Each one requires five people to operate it and he estimates that over one thousand men are now employed because of it.
Although Mr Bharali says there is no shortcut to success, his hard work means his life is now comfortable and he is able to support 25 other families with the proceeds from his business.
His engineering background has certainly helped Mr Bharali but he thinks that the fundamentals of innovation cannot be taught:
"Any person with a restless mind, who is uncomfortable with things in the world, is an innovator.
"Innovation comes from inside you. No-one can make you an innovator, you have to feel it."
Originally he would design his machines and then hope that they were commercially successful but such is his reputation now that people are commissioning him to make bespoke solutions and he has no intention of slowing down. For him the excitement of innovating continues:
"I just enjoy the challenge. Always something fresh. And the joy of being the first person to do something new."
Additional research and reporting by Priti Gupta.