Mobile phone charges: 'I didn't think I could complain'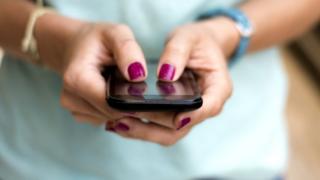 How much should your monthly mobile phone bill be once the cost of the handset has been paid off?
Citizens Advice found that customers who do not take out a new contract are paying an average extra £22 a month.
BBC News readers have been sharing their stories of confusion, overpayment and lack of communication.
---
Luis in London via WhatsApp: I was overcharged for six months. When my upgrade was due, I didn't need a new phone, so I just carried on. A relative pointed out I might be overpaying.
When I called the company, they reduced my tariff from £45 to £15 per month - no questions asked. It's as if they know about this massive loophole where they capitalise on loyal customers.
---
Carole in Bognor Regis via email: I noticed a rise in my monthly cost - from £10 to £17. With difficulty I found that the increase was due to the ending of my contract, which included the purchase of my phone.
The phone company offered me a sim-only contract for 12 months at less than my previous monthly payment. At no time before the end of the original contract was I warned that my monthly payments would increase.
I am coming up to my 70th birthday so consider myself one of the older generation who still would like to believe that loyalty should be rewarded.
---
Chris from Liverpool via email: I took out a contract in 2013 and warned the phone company at the time that I would most likely leave the country a year later, but got a two-year contract anyway. What I didn't realise is that when the contract elapsed they continued to take monthly payments from me.
I was being charged for 18 months - more than I ever agreed to.
I did get a partial refund but was told it was the customer's responsibility that they terminate their own two-year contract. Apparently they can't afford to message every customer about their pending contract ending. I ended up paying at least £600 more than I should have.
---
Richard in York via email: You don't continue monthly payments when your loan is finished, or your credit agreement ends, so why pay for your phone once it's paid for? I think they hide what you pay in the monthly bundle. My contract ran until June this year. I was paying £55 per month. I didn't switch for two months and overpaid by £72.
I didn't complain - I didn't think I could. I think the practice stinks. They're reliant on the customer to be cognisant that their contract has ended. I could have taken a sim-only plan. It's just not made clear.
They make money off inertia. It's a bit like energy companies - making money off your ignorance.
---
Rebecca via email: My contract ended the other month. I thought I would automatically be moved over to pay as you go but another £48 bill came through despite having gone over the 24 month contract.
I had to ring the company to get them to move me on to pay as you go whilst I wait for a better value contract to come up, otherwise I would have continued to have been billed nearly £50 each month.
---
Alan in Coventry via email: I have been with my phone provider for 10 years. Every time my contract is due they have always contacted me beforehand to inform me that it is due, and given me the options to go to sim-only or change to a new handset.
Produced by Sherie Ryder, UGC and Social News team