Gazumping: Your views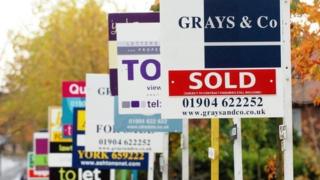 If you have ever bought or sold a property, chances are you may have heard of "gazumping".
It refers to the scenario of a seller accepting a higher offer from a new buyer, "gazumping" a previously accepted lower offer, and is among the most contentious of house-buying practices.
Being gazumped as a buyer means you not only lose the property, but money spent on searches, surveys, solicitor fees and mortgage applications.
However, the practice could be outlawed under new government plans to reduce the "stress" of home-buying. Here are some of your views:
Nick Smith, London
We are first-time buyers going through the process of buying our first home in London. We had previously tried three years ago and were gazumped twice. We lost nearly £4,000 to surveyors and solicitors with no property to show for it at the end.
We had spent 20 years saving about £40,000 for a deposit and to see 10% of that money go down the drain was heartbreaking. e were then trapped on the rental market for three years until we could rebuild our savings, while watching house prices rise.
Linda Nunn, Hertfordshire
We were a week away from exchanging contracts and my buyers demanded I drop my price by another £35,000.
If my estate agent hadn't started chasing them we probably wouldn't have known that until we exchanged.
I've had to put my home back up for sale and will probably lose the house I wanted and the money I've spent on surveys and solicitor's fees.
Andrew Spiers, Eastbourne
Our seller pulled out on the day of exchange. It cost us £1,800 in fees and we had to arrange temporary accommodation at the last minute.
My wife was four months pregnant at the time and we had to move out of our previous home as we didn't want to lose the sale.
We had no comeback on the cost as contracts had not been exchanged, despite the fact we had paid for a couple of surveys. The whole system is a joke and needs changing.
Liz Green, London
We have been attempting to move from London to Dorset since March. We accepted an offer for our house within two weeks of putting our house up for sale, and had an offer accepted in Dorset in early April. We packed many of our belongings into boxes and got a removal quote.
In July, our buyer pulled out due to problems with their mortgage, but another buyer was found quickly who was part of a chain. We were ready to move this month - until our the new buyer's buyer then pulled out, so the chain fell apart.
We are back to having viewings and our goods are still in boxes in the attic and cellar. We are both retired and are finding this process stressful, tiring and unsettling. It has cost us money and has prevented us from making any plans.
Duncan Forrest, Norwich
The truth is that the whole home-buying process could be speeded up, but there is no incentive to do so. Too many professionals are making a great deal of money without doing very much.
Solicitors in my experience use paralegals and secretaries who have limited experience and anything vaguely tricky causes delays. In short there are too many vested interests to be part of a real and trusted review.
The whole thing needs to be looked at independently and imposed on an industry that has gorged itself on easy pickings for far too long.
Produced by Nana Prempeh