Dividend payouts this year are on track for a record £94bn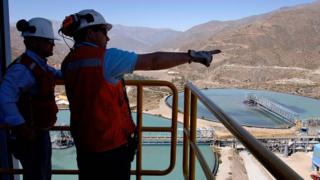 Shareholders are on track to receive a record £94bn in dividend payouts from UK listed companies this year, according to a study.
It comes after payouts leapt to £28.5bn in the three months to September, a record for a third quarter.
The increase, which includes a rise in special dividends, was driven by bigger payouts from mining companies.
The previous annual record, according to the report from Capita Asset Services, was £88.1bn, paid in 2014.
Capita's Dividend Monitor assessed data from firms listed on the London stock exchange's main market, which has more than 1,500 companies, of which the biggest are on the FTSE 100.
The third-quarter payout was 14% up on the period last year, with two-thirds of the jump due to bigger dividends from London-listed mining companies.
Justin Cooper, chief executive of Shareholder Solutions - part of Capita Asset Services - said: "We had high hopes for 2017, but the dividend seam is proving even richer than we expected, as the mining sector finds its footing again."
Mr Cooper said: "Investors have struck gold as this year's haul easily smashes the previous record set in 2014. Generous payouts have been topped up by big exchange rate gains between January and June and very large special dividends, setting 2017 up to be a sparkling year."
FTSE 100 miner Anglo American restarted its dividend six months earlier than expected, distributing £518m to shareholders. Meanwhile, BHP Billiton tripled its payout, and Evraz paid its first dividend in three years.
Stripping out special dividends - typically one-off payments when companies are flush with the cash - investor payments lifted 13% to a record £27bn during the third quarter.
Special dividends also picked up by 40% to £1.5bn over the period.
The Capita report said the bumper payouts from the mining sector had forced the firm to tweak its full-year forecasts by more than £3bn, with headline dividends now expected to rise by 11% to £94bn for the year.
Pay rise
Mr Cooper added: "Exchange rate gains will be gone in 2018, unless the pound takes another jolt downwards as the Brexit talks unfold, and most of the big companies who cancelled dividends in recent years have already restarted them, so that additional sparkle will have dulled.
"Even so, the overall value distributed by UK plc is likely to remain at or near 2017's record levels," he said.
Companies have been criticised for raising dividends - especially special dividends - while wage rises and investment remain sluggish.
Stefan Stern, director of the High Pay Centre, said it is undeniable that people benefit from higher dividends through pensions and investments, but added that some of the money could be put to better use.
"People need a pay rise," he said. "And companies need to invest for the future in skills and training, and to improve productivity."
He was also suspicious about motives of companies that make their shares attractive by paying higher dividends. "Top executives have an incentive to keep shares up, because they will benefit from healthy bonuses," he said.
Capita's dividend study excludes investment companies, such as investment trusts, whose dividends rely on income from equities and bonds. Also, the figures are before tax.