TV tower firm Arqiva eyes £6bn UK listing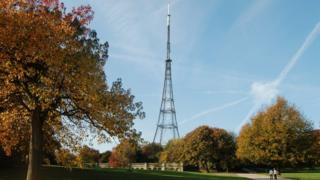 The UK's largest owner of TV transmitters, Arqiva, is planning a £6bn float on the London Stock Exchange expected to be the biggest this year.
Arqiva traces its roots back to the BBC's first radio broadcast in 1922, and its masts are used by TV channels, radio stations and mobile networks.
The flotation comes after a failed attempt to sell the company privately.
The firm aims to raise £1.5bn to pay down debt in a share sale likely to put it in the FTSE 100 index.
Arqiva's clients include the BBC, ITV and international broadcasters and its masts cover about 98% of the UK.
The firm, owned by the Canada Pension Plan Investment Board and Australian bank Macquarie, was widely reported to be in talks about a sale.
However, the collapse of discussions with Canadian and Singaporean investors has paved the way for a float instead.
Arqiva chief executive Simon Beresford-Wylie said: "Arqiva provides the critical infrastructure and skilled workforce that ensures the effective operation of the UK's television, radio, telecoms and smart meters.
"We are very much looking forward to bringing our unique combination of leading assets and skills to the public markets."
For the year to June, Arqiva posted revenue of £944m and profits before tax, interest and other costs of £467m, but an overall loss of £427m.
The company said it expected to pay "generous" dividends, with this year's payout totalling £195m.