PPI complaints rise 24% in six months, says FCA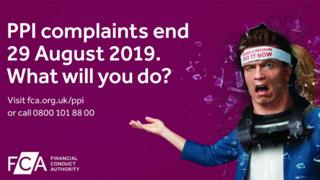 Complaints about Payment Protection Insurance (PPI) have jumped to their highest level in three years, the regulator has said.
The Financial Conduct Authority (FCA) said the number of complaints rose by 24% in the first half of the year, compared with the previous six months.
PPI complaints totalled 1.11 million, compared with 899,000 in the second half of 2016.
The rise happened even before the FCA announced a complaints deadline.
Consumers have until the 29 August 2019 to apply for compensation.
The FCA said PPI accounted for 82% of the £2bn paid out to consumers whose complaints were upheld over the six months in question.
The number of complaints is the highest since the first half of 2014, when 1.2m people applied for compensation.
---
Payment Protection Insurance saga
64 million
PPI policies sold
£27bn paid in compensation so far

£37bn set aside by the major banks
---
So far £27bn has been refunded to people who were mis-sold PPI insurance, which was supposed to cover them for loss of income should they be unable to work.
But the insurance was unnecessary for most consumers.
The FCA is running a publicity campaign to encourage people to claim before the deadline, featuring the actor Arnold Schwarzenegger.
It believes that most of those eligible to claim have not yet done so - raising the spectre that the banks may need to set aside even more cash.
So far they have reserved some £37bn.
The FCA did not say why there had been such a large rise in PPI complaints.
By contrast, figures from the Financial Ombudsman Service (FOS) - shown above - show a fall in the number of complaints since 2014.
The FCA counts complaints made direct to a person's bank or credit card company, in the first stage of the process.
The Ombudsman only gets involved if the consumer, having had their complaint rejected by their bank, decides to take it further.
In other words it appears that more people are complaining to their bank or card provider, but fewer are pursuing it when it is initially rejected.