Dr Martens sees rising revenues in east Asia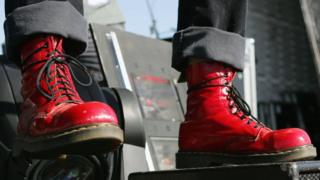 Footwear brand Dr Martens has revived the old rock star's dream of being big in Japan.
The British bootmaker benefited from opening five new Japanese stores and one in Hong Kong in the last financial year, while it also saw a strong performance in South Korea.
The success in east Asian markets boosted its revenues in the region by 88% to £22m in the year to 31 March.
Overall, its full-year revenues rose 25% to £290.6m.
"Despite a challenging retail environment, we have delivered double-digit growth across all areas of the business and continue to see the investments in our people, structure and operations as an integral part of our aim to deliver long-term sustainable growth," said chairman Paul Mason.
Chief executive Steve Murray left the firm earlier this year as part of a "mutual decision".
Work boot
The Dr Martens brand is owned by investment firm Permira Funds, which acquired it for £300m in 2013.
The majority of its boots are now made overseas, but about 70,000 a year are still produced at its factory in Northampton, where they have been made since 1960.
Its air-cushioned sole was developed by Munich-based Dr Maertens and Dr Funck and the UK patent rights were sold to R Griggs Group.
The footwear that emerged from their collaboration was initially sold as a work boot, but was taken up by the early skinhead youth movement of the 1960s.
The boots also become popular with punks in the 1970s and had a resurgence when Britpop emerged in the 1990s.