Are too many tourists visiting Iceland?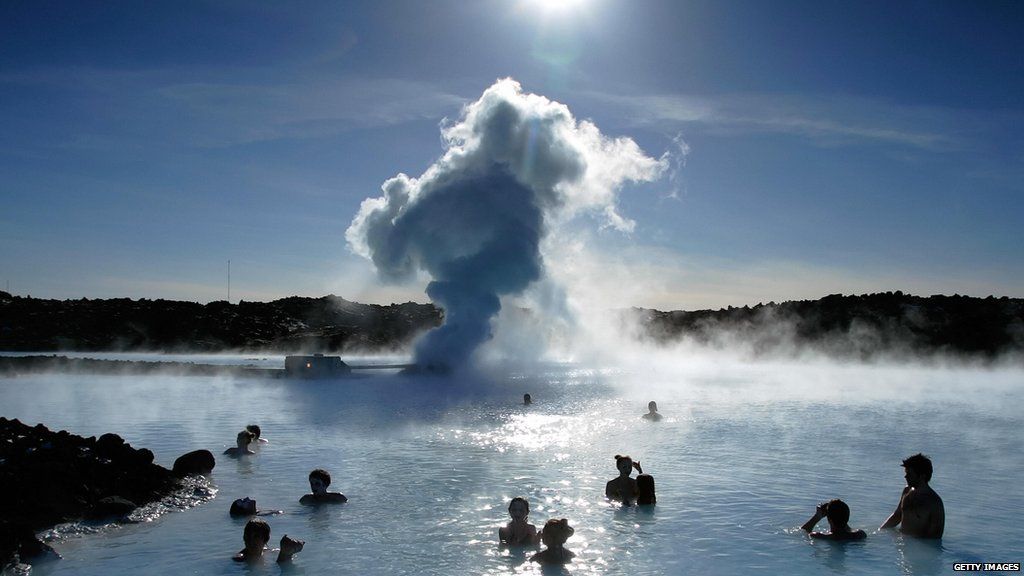 An explosion in tourism saved Iceland's economy. But in a country of just 300,000 people, how much tourism is too much?
It's a cold, overcast and blustery day in Iceland, but that hasn't put off the busloads of tourists at the Blue Lagoon - one of the country's most popular attractions.
The lagoon is a pool of geothermally heated water. It is rich in minerals and is said to be good for your skin.
Its creation is something of an accident. Locals noticed the run-off from a local geothermal power plant was a strange shade of blue and started bathing in it.
Located between Reykjavik and the airport, it's now become a "must-do"' on tourist itineraries.
"In our first year in 1994 we had about 50,000 guests, and this year we will be welcoming 1.3 million," says Grimur Sæmundsen, the Blue Lagoon's chief executive.
That success reflects the astonishing growth of tourism in Iceland as a whole.
Last year 1.7 million people visited Iceland - more than triple the number that came in 2010, when the small island nation of just 330,000 was still reeling from a catastrophic banking crisis and the eruption of Eyjafjallajökull - a volcano that grounded air traffic across Europe for a week.
At the time the eruption was seen as a disaster for tourism, but that pessimism proved ill-founded.
"In the long term it had a tremendous positive effect because Eyjafjallajökull was one of the things that put Iceland on the map." Mr Sæmundsen says. "Maybe tourists heard of Iceland for the first time in the various airports when they were stranded."
The sudden interest from travellers could not have come at a better time. When Iceland's three major banks collapsed in 2008 at the height of the financial crisis, there were fears they would take the rest of the economy with them.
Nine years later the economy is growing at more than 7% a year, unemployment is less than 3% and foreign currency is rolling in. The tourism boom is leading to a construction boom and the creation of tens of thousands of jobs.
"Tourism really helped us take off," says Gylfi Magnusson, a professor at University of Iceland and a former minister for economic affairs after the banking crisis.
"Certainly the recovery would have taken considerably longer if it hadn't been for this unexpected boom."
But the sudden influx of foreign visitors has not come without problems. Some sites lack the infrastructure to cope with the rising numbers.
In summer Reykjavik's restaurants are filled to capacity. There is a shortage of hotel rooms, meaning that AirBnB has flourished, and Reykjavik's main shopping streets have been turned into a stream of tourist shops selling Icelandic wool jumpers and soft toy puffins.
"We don't have any neighbours anymore," says Benony Aegesson, who has lived in downtown Reykjavik since the 1970s. He says virtually all the flats around his home are now rented out to tourists.
"It was very fashionable for young people to live here, but the prices are getting so high that the young people can't afford it anymore.
"Speculators have come here and bought up apartments and stores and we're worried about its future as a residential area. If it's only old people and tourists here, there is a danger it will die."
Is there a limit to the number of tourists a small nation like Iceland can accommodate?
Inga Hlín Pálsdóttir is the director of Visit Iceland, and has been in charge of promoting Iceland as a tourist destination for the past decade.
She says the question is a difficult one to answer.
"If you said there would be five million people coming to Iceland in five years and you told me they would all be coming to Reykjavik, i would really worry," she tells me.
"But we've been putting the focus on the other regions of Iceland. If you get numbers like that spreading around Iceland, visiting other communities then you have a completely different scenario.
"At this point I don't think we have an overflow - if you talk to someone just outside Reykjavik they're complaining that they want more travellers to come and visit them."
I asked long-time Reykjavik resident Benony Aegesson if he would ask people not to come to Iceland on holiday.
"No, I wouldn't do that," he says: "We're not against tourists per se, but nobody wants to come to a ghost city. Of course they saved us from our financial crisis - that we are grateful for."