Hasbro falls on weaker holiday sales forecast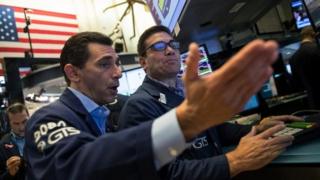 Shares in toymaker Hasbro tumbled by more than 8% on Monday, after it warned that the bankruptcy of Toys R Us might hurt holiday sales.
The fall was among the steepest on Wall Street indexes, which closed lower on Monday after hitting records last week.
The Dow Jones fell 54.67 points, or 0.23%, to 23,273.96, while the S&P 500, shed 10.23 points, dropping 0.4% to 2,564.98.
The Nasdaq index closed at 6,586.8, down 42.22 points, or 0.64%.
US stocks have surged in recent months, as investors respond to corporate earnings and prospects for business tax cuts.
But declines were broad-based on Monday, with telecommunications, industrial and consumer stocks leading the losses.
Toymakers took a beating after Hasbro lowered its forecast for the forthcoming holiday sales period, citing problems at Toys R Us, which accounts for about 9% of Hasbro's sales.
The worries spread to other firms, including Mattel, which closed down more than 3%.
General Electric also closed down more than 6% after analysts said they expect the firm to reduce its dividend payout to shareholders.