Former HSBC banker found guilty of fraud in the US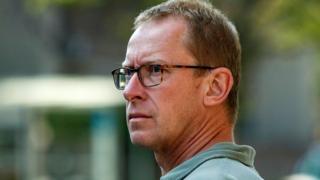 A US jury has found a former HSBC executive from the UK guilty of defrauding client Cairn Energy in a 2011 currency trade.
Prosecutors said Mark Johnson schemed to increase the price of sterling before converting $3.5bn into pounds for Cairn, benefiting HSBC.
Mr Johnson, the former head of HSBC's global foreign exchange cash trading, was arrested in New York last year.
The US is seeking to extradite another UK banker, Stuart Scott, in the case.
The lawsuit is related to a wider investigation into global currency markets.
While banks have admitted to manipulating foreign currency markets, this suit was the first in the US to target individuals.
Speaking after the verdict on Monday, an attorney for Mr Johnson maintained his client's innocence. "They've convicted an innocent man," the attorney said outside the courtroom.
Prosecutors said Cairn, an Edinburgh-based oil and gas company listed on the London stock market, selected HSBC in 2011 to handle the conversion into sterling of $3.5bn in proceeds from the sale of one of its subsidiaries.
Telephone recordings
They alleged that Mr Johnson and Mr Scott, on behalf of HSBC, bought sterling in advance of the deal, inflating the currency's value and ultimately making about $8m in fees and profits for the bank.
Mr Johnson, 51, was on trial for nearly four weeks in a federal court in Brooklyn, New York. He will be sentenced at a later date.
The prosecutors' case revolved around recorded telephone calls, including tapes in which the higher price for the pound was blamed on a Russian buyer.
His defence team argued that Cairn was aware that advance trades would occur and said his comments were taken out of context.
Separately, Mr Scott has denied the allegations against him.
HSBC, which was not charged in this case, declined to comment.
The firm has said it is in talks with US regulators to resolve an investigation of its foreign exchange trading.
In September, the US Federal Reserve fined the bank $175m in over "unsound" practices in its foreign exchange business.
By Michelle Fleury, New York business correspondent
For nearly four weeks jurors heard how a former HSBC currency trader Mark Johnson bought sterling ahead of client Cairn Energy's order, forcing the oil and gas firm to pay a higher price.
To make their case, US prosecutors played audio recordings of phone calls between Mr Johnson and traders in London and New York, including one where he said, "I think we got away with it."
Mark Johnson, a British citizen, was arrested in dramatic fashion in New York last July as he was about to board a plane to London.