Consumers warned as credit card rates hit 10-year high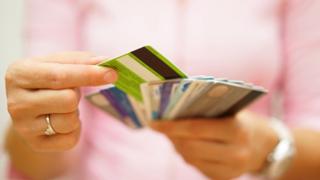 Interest rates on credit cards are at their highest for at least 10 years, according to the website Moneyfacts, despite low base rates.
The average rate on credit cards, including store cards and so-called "credit repair" cards, is 23% a year.
Consumers are being warned not to rely on interest-free introductory periods, as eventually they may have to pay the full advertised rate.
Among the most expensive cards is HSBC's, which charges 29.9% a year.
By contrast Lloyds Bank charges 5.7%, and Tesco 5.9%.
Moneyfacts said the 23% average figure was the highest since their records began in 2006.
Lenders charge more for credit cards because it is unsecured lending, which makes it more risky for them than a mortgage or car loan.
Rate rise ahead?
"While there has been a huge injection of introductory interest-free offers into the market over the last few years, which can help spread the cost of purchases, this has not stopped a surge in credit card interest," said Rachel Springall, finance expert at Moneyfacts.
"What's more, further rises may occur in response to any base rate hike, as it gives lenders an excuse to pass on higher interest charges to consumers."
There has been speculation that the Bank of England could increase base rates as soon as next week.
Moneyfacts said consumers could save large amounts of money by switching to another provider.
Someone borrowing £1,000 on a credit card at the average rate of 23% would have to pay £509 in interest.
However, someone using a card that charges just 5.7% would only need to pay £89.
Interest-free credit
Many people never pay the advertised interest rate, as they rely on interest-free transfers, or introductory offers of 0% interest.
However, long interest-free periods have come under scrutiny from the Financial Conduct Authority (FCA). It is worried by the number of people only paying off the minimum amount each month.
Indeed some interest-free periods of up to three-and-a-half years have now been withdrawn, although it is still possible to find offers of up to 32 months.
"This means that those with debts should never assume that they can always hop from one lengthy interest-free deal to another with ease," said Ms Springall.
However, interest rates on credit cards might not rise immediately after any change in base rates.
Lenders could instead shorten interest-free periods, or withdraw particular offers.