Marks and Spencer clothing and beauty boss resigns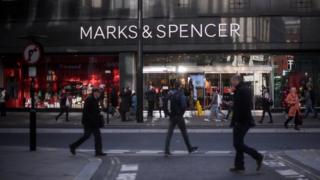 Marks and Spencer clothing boss Jo Jenkins has quit, months after starting a new role at the struggling retailer.
Ms Jenkins is to leave M&S to become chief executive at White Stuff, a privately owned clothing chain.
The change comes in the run-up to the crucial Christmas period as M&S fights to boost flagging clothing sales and revamp product ranges.
"Going into Christmas, this isn't a good sign," said Connor Campbell, an analyst at Spreadex.
•M&S profits tumble as one-off costs bite
•UK retail sales fall sharply in September
While it is too early to say who may replace her, Ms Jenkins' departure "won't leave us with a gaping hole," an M&S spokesperson said. The retailer has a managing director for clothing, home and beauty in place, Jill McDonald, who joined M&S from Halfords in May.
Ms Jenkins joined M&S as the director of its womenswear, lingerie and beauty division in 2013 and moved to her current post when it was created in May.
She will stay with M&S in the short term as she serves out her six-month notice period, the firm said.
The retailer has seen several high-profile changes in the past year, with former Conservative MP Archie Norman being named as its new chairman in May.
The surprise exit may be seen as a blow to M&S chief executive Steve Rowe, who has been leading a turnaround plan at the retailer.
'Hard to be positive'
Annual profits at M&S fell by almost two-thirds last year following a costly overhaul of the business amid a challenging High Street landscape. The Office for National Statistics last week said retail sales suffered an unexpectedly sharp fall of 0.8% in September, reversing a jump in August.
"It seems like M&S is struggling to find something that sticks in the clothing division and finding it difficult to turn around its image as a slightly older-aimed clothing company," said Spreadex's Mr Campbell.
With changes like these, "it's hard to be positive about M&S," he said.
"I don't think many people in their 20s or late teens will go to M&S to buy their clothes," he added, particularly in view of the competition from online giants such as Asos.
Asos this month reported record annual sales and profits, boosted by a weaker pound and strong international sales.
'Green shoots'
Mr Rowe has said M&S must respond to consumers' changing shopping habits, particularly the growth in online retailing.
In April, the retailer named six stores which it planned to shutter as part of a five-year programme of store closures and openings. The company is also embarking on an expansion of the M&S food operation.
Sales at the clothing and home division fell at a slower rate in the second quarter, compared with the previous three months.
"We might be seeing the green shoots of a little bit of a recovery for M&S, with the highlight being its food division," said Laith Khalaf, an analyst at Hargreaves Lansdown.
"The new chief executive seems to be addressing the right issues. Time will tell if the measures he's taking will take M&S back to its former glory."