Kobe Steel scraps profit forecast on fake data scandal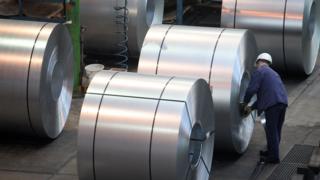 Japan's Kobe Steel has withdrawn its full-year profit guidance due to uncertainty around the cost of its data falsification scandal.
Last month it admitted to fabricating data on the quality of some products, possibly for more than a decade.
Kobe Steel supplied those products to companies around the world but no safety issues have yet been reported.
The firm, whose shares have plunged more than 30% due to the scandal, will also cancel its interim dividend.
Kobe Steel had previously forecast net profit of 35bn yen ($308m; £234m) for the financial year ending in March.
"It is difficult at this time to estimate the impact of the improper conduct concerning products of Kobe Steel and its group companies on business performance," the company said in a statement on Monday.
Japan's third-largest steelmaker supplies manufacturers of cars, planes, trains and other products around the world.
Manufacturers, such as General Motors, Boeing and Toyota, have been investigating whether they have used any of the sub-standard materials from Japan's third-largest steel maker.
Last week, Kobe Steel said 88 firms were still to confirm whether their products were safe but so far, no safety issues had been reported or recalls requested.
The company also lost a Japanese Industrial certification at one of its factories over the data tampering.
Kobe Steel is the latest in a string of major Japanese companies to be mired in scandal.
They include cases of falsified data at Nissan Motors, Subaru and Mitsubishi Motors, while air bag maker Takata filed for bankruptcy in June over faulty airbags which were blamed for several deaths and many injuries.