Bookmakers' shares end higher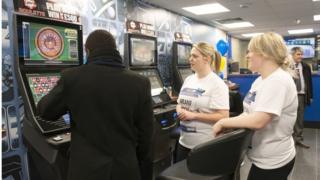 Bookmakers held on to share price gains on Tuesday after the government announced a review into fixed-odds betting terminals.
The 12-week government consultation has proposed limiting the maximum £100 bet to between £2 and £50.
William Hill shares rose 2.4% and Ladbrokes added 1.7%, while the FTSE 250 index finished up just 14.6 points at 20,227.8.
The blue-chip FTSE 100 closed 5.2 points ahead at 7,493.08.
Barclays said that investors had been pricing in a "worst-case scenario" for the government review on the high-speed electronic casino games, but it expected "a more benign outcome".
The bank's analysts said the eventual cut to the maximum stake for fixed-odds betting terminals was more likely to be to £25 than £2.
Advertising giant WPP ended the day as one of the biggest risers on the FTSE 100, up 3% at £13.34 despite cutting its sales and profit margin forecasts for the second time in two months.
Easyjet shares also rose, picking up by 3.1% to £13.39 following strong results from rival Ryanair. The Irish airline said it expected record annual profits this year despite disruptions to schedules that forced the cancellation of 20,000 flights earlier this year.
Shares in Ryanair ended 6.4% higher at €16.82 in Dublin.
Just Eat jumped 5.4% to 780p after the takeaway ordering website reported a 47% surge in revenues in its latest quarter.
On the currency markets, the pound was 0.5% higher against the dollar at $1.3271 and enjoyed a similar rise against the euro at €1.1392.