US stocks rise amid economic optimism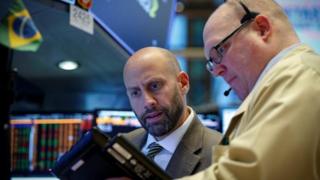 The Dow Jones and the S&P 500 closed higher on Wednesday, but Apple dragged the Nasdaq lower.
Shares in the cellphone giant, which have risen in recent days, fell ahead of the firm's release of its quarterly results on Thursday.
The Dow Jones rose 57.7 points, or 0.25%, to 23,435, while the S&P 500 rose 4.1 points or 0.16% to 2,579.3.
The technology-focused Nasdaq Composite slipped 11.14 points, or 0.17%, to 6,716.5.
The increase came amid a slew of corporate earnings reports. It extended gains from Tuesday, when consumer confidence and strong home sales boosted markets.
The Federal Reserve, which ended a two-day meeting in Washington, said US economic activity remained "solid".
Analysts said the description suggested policymakers will raise rates one more time by the end of the year.
Among individual companies, shares in cosmetics firm Estee Lauder jumped by more than 9% after forecasting stronger-than-expected holiday sales.
Envision Healthcare plunged more than 30%, a day after reporting a sharp drop in quarterly profits.
The firm said it had seen a fall in emergency visits and was reviewing its strategy with "all options on the table".