Five things we have learnt from the Bank of England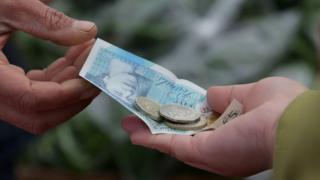 As widely expected, the Bank of England raised the UK interest rate - to 0.5% from 0.25% - in the first increase in more than a decade.
Alongside the announcement, it also published its quarterly Inflation Report.
In it, the Bank of England said that any future increases in the borrowing costs would be limited and gradual.
Here are five things we learnt from the Bank's report.
Homeowners shouldn't panic
A third of British households have a mortgage on their home, but most are tied to deals that fix the interest rate on the loan.
The Bank highlighted that many families have taken out these types of mortgages in recent years - nearly 60% of outstanding home loans are tied to a fixed-rate.
It calculated that many households who currently have a fixed-rate mortgage will actually see a reduction in their payments when they remortgage because consumer borrowing costs have come down in recent years.
For households who took out a five-year fixed-rate deal, the reduction is estimated to be significant - as much as 2 percentage points.
For families who fixed the interest rate on their mortgage for two years, the Bank estimates that the rate they pay could fall by around 0.3 percentage points.
The Bank also said interest rates paid on personal loans and credit cards were more likely to be fixed.
While 59% of mortgages and 80% of personal loans and credit cards are tied to fixed rates, only 26% of savings accounts are.
The Bank said this suggests "a rise in Bank Rate may feed through to to effective saving rates more quickly than to borrowing rates on average".
Consumers can cope with credit
Credit is now cheaper and more abundant than it was ten years ago.
The average interest rate paid on a £10,000 personal loan is now 3.7%, compared with 7.8% a decade ago, while the average interest free period on a credit card balance transfer is now 28 months, compared with 8.2 months in 2007.
Much has been made of the recent double-digit rise in consumer credit, which the Bank itself describes as "rapid".
However, it noted that most borrowing in recent years had been among those who had never taken out a credit card or personal loan, while around 40% could pay back their loans tomorrow if their banks demanded because they have a savings cushion.
Low growth is the new normal
The Bank expects the UK economy to keep expanding at a steady pace over the next few years.
However, it warned that productivity growth, a key barometer of UK living standards, had "barely grown" over the past decade, and was now unlikely to grow at the same rates as in the past.
If the Bank is right, this means lower growth and weaker pay rises could be the new normal for the British economy.
The Bank believes the UK economy will grow by 1.6% in 2017 and 2018, with growth edging up to just 1.7% by the start of the next decade.
Tight wage growth v strong employment
British consumers have felt a squeeze on their incomes this year as the fall in the value of the pound has push up prices for goods and services.
The Bank still expects real incomes to fall this year, although average weekly pay packets are expected to grow at a slightly faster pace than expected three months ago.
It expects inflation, as measured by the consumer prices index (CPI) to peak at 3.2% in October, before easing back gradually towards the Bank's 2% target.
But there is also good news.
The UK jobs market is expected to remain strong. The Bank believes unemployment is likely to fall further from its current four decade low of 4.3% to around 4.2% by the end of the year.
Global demand will support the UK
A "significant" pick-up in global economic growth is forecast by the Bank to support UK exports and business investment, even as Brexit uncertainties remain.
It added that the weaker value of the pound had also boosted Britain's competitiveness.
Business investment is now expected to grow by 2.5% this year, more than double its previous estimate of 1%.
"The combination of the stronger global economy and the low sterling exchange rate is supporting UK exports," the Bank said.
While companies were investing in their businesses at a faster pace than the Bank expected a few months ago, it noted that investment growth was "more modest than would have been expected given these conditions alone - probably as a result of the drag on companies' investment plans from the anticipation of and uncertainty around Brexit."