Meet the world's youngest self-made billionaire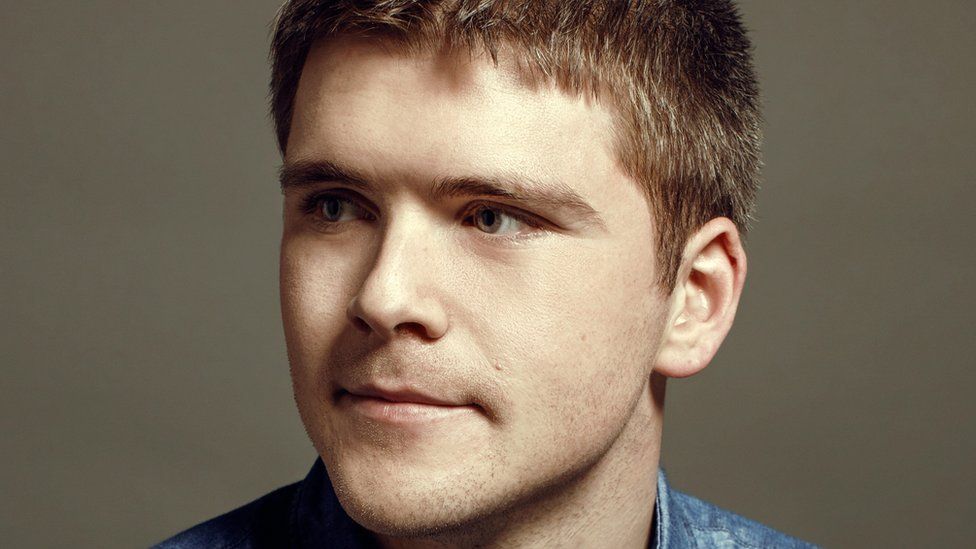 John Collison does not seem entirely comfortable with his somewhat impressive claim to fame - he is the world's youngest self-made billionaire.
Just 27, he otherwise seems a supremely confident business leader and excellent communicator.
But ask him about how wealthy he is, and you sense his awkwardness.
"People now ask this a lot and I feel like they always want some really interesting answer - and I have nothing for them," says the Irishman.
"People ask 'how has your life changed?', and they want me to have taken up some elaborate new hobby, like Faberge egg collecting or yacht racing."
Instead he says he likes going for a run in his spare time, describing it as a "very practical, low maintenance hobby".
John is the co-founder of a US-based software business that most people will never have heard of, called Stripe.
He set up and now runs the San Francisco-based company with his older brother Patrick, 29, who is the world's third youngest self-made billionaire. (Evan Spiegel, 27, the co-founder of social media firm Snapchat, stands between the two brothers as the second-youngest).
Founded in 2011, Stripe is not widely known because it doesn't sell anything that consumers can buy. Instead its software systems enable companies around the world to more easily accept online payments and run their websites.
With more than 100,000 global customers, last year it announced a new round of funding that valued the company at $9.2bn (£7bn).
This means that John and Patrick are each worth at least $1.1bn, according to Forbes magazine, which is expert at calculating the wealth of the rich and famous.
Not bad for two brothers who grew up in rural Republic of Ireland, and who both dropped out of university.
Keen computer programmers as teenagers, John and Patrick grew up in a small village in County Tipperary, in the west of the country.
After attending a state secondary school in the city of Limerick, their choice of universities was an indication of their ambition in life.
Not for them a college in Ireland or the UK, they instead both decided to study at top US institutions.
Despite no family connections in the US, Patrick successfully applied to study maths at the prestigious Massachusetts Institute of Technology in Cambridge, near Boston in 2007. Two years later John was accepted nearby, at the equally well respected Harvard University.
John says: "It was obviously easier for me because Patrick had already done it, but we'd both developed a bit of wanderlust.
"I had considered the UK, but that wasn't far enough away, it wasn't wandering enough. And both of us were studious, so going to a top college in the US was always tempting."
But even before John had started at Harvard, he and his brother had already become millionaires thanks to their first business venture, a software firm that enabled small firms and sole traders to do business more easily on the auction website eBay.
Ultimately called Auctomatic, it was sold in 2008 for $5m (£3.8m) a year after they had set up its first iteration.
The brothers then turned their attention to Stripe, and continued to work on it together after John started at Harvard. They then both dropped out of university to launch Stripe in Silicon Valley, California.
John says: "We came up with Stripe the way a lot of people come up with similar ideas - we were in the market for something like Stripe [that we could use].
"You might wonder what is hard about starting an [online] business. Creating a product that people actually want to buy, and getting them to hear about it, all that we could handle. But getting money from people over the internet was extremely difficult.
"I remember saying to Patrick 'how hard can it be? Maybe we should give it a try?'."
So they set about developing a software system that allows firms of all sizes to more easily collect payments, and run other parts of their websites, such as safely storing customer data, and other security systems.
Despite numerous competitors, Stripe's user numbers quickly grew, and it secured funding and support from such technology sector heavyweights as Tesla boss Elon Musk, and Paypal founder Peter Thiel.
Its business model is relatively straightforward - it charges customers an amount per transaction processed using its software. In the UK this is 1.4% of the value of the transaction plus 20p.
More The Boss features, which every week profile a different business leader from around the world:
While Stripe doesn't release details of its annual revenues, the firm's $9.2bn valuation suggests it is a lucrative business. And when it comes to further growth potential, John is supremely confident.
"Only 5% of consumer spending globally currently happens online, and we want to help increase that.
"We are indexed to the growth of the internet economy. As long as the internet economy continues to grow, Stripe will continue to grow.
"I don't know about you, but I think that is a very safe thing to bet on."
Today Stripe has 750 employees, including 500 in San Francisco, and 150 overseas, including European offices in Dublin, London, Paris and Berlin.
Technology journalist Martin Veitch contributing editor to tech website IDG Connect, says it isn't surprising that Stripe is receiving so much attention, but he cautions that it remains a young business.
"Any company that has the potential to be a de facto standard in web business operations will generate almost cult-like interest, and that is what the brothers have done in online and mobile payments," he says.
"But this is a competitive space… Stripe's valuation might make some of us weep with envy, but these remain very early days."
On a day-to-day basis John, who has the title of president, says that he spends more time dealing with external matters, such as sales deals and partnerships, while Patrick focuses most on internal matters, such as engineering.
In their spare time they share an apartment in San Francisco that must be some bachelor pad.
Just don't ask them what it is like to be a billionaire.
"Mostly it [the billionaire thing] is just a calculator exercise," says John. "The valuation is predicated on us continuing to execute and launch very compelling products in a highly competitive space - so good signs, but still a lot to do."
Related Internet Links
The BBC is not responsible for the content of external sites.