Republican tax proposal raises concerns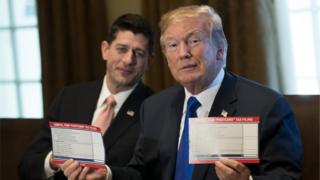 Republicans are working to allay concerns over a tax plan unveiled this week, which is aiming to simplify the code and lower rates for businesses.
The proposal comes with a roughly $1.5tn (£1.1tn) price tag, which has raised alarm among deficit hawks, including those in their own party.
Democrats argue the bill is gift for wealthy Americans while some powerful business organisations oppose it.
The proposal is the most sweeping rewrite of the US tax code since 1986.
The overhaul is a priority for US President Donald Trump and Republicans, who are looking to claim victory on a longstanding campaign pledge ahead of the next election cycle.
But "it's going to be really, really hard," said economist Dean Baker, co-director of the left-leaning Center for Economic and Policy Research.
The heart of the bill is a proposal to slash the corporate tax rate from 35% to 20%, which supporters say would make the US more competitive internationally.
It also increases how much money people can deduct from their income tax bills and would eventually eliminate the inheritance tax.
In exchange, the bill would do away with a slew of targeted tax benefits, such as deductions for moving and medical expenses, and credits for certain drug development costs.
What are people saying?
Those changes have raised objections among powerful lobbying groups.
The National Association of Home Builders, for example, said it opposes changes that would limit deductions for property tax and mortgage interest payments.
The National Federation of Independent Businesses, which is often aligned with Republicans, also said it does not support the plan.
The group said the lower top tax rate for so-called pass-through firms - a grab bag category that includes small businesses, hedge funds and many real estate companies - does not do enough to help small businesses, given other changes to the rules.
Some fiscal conservatives among the Republican Party also said they are worried about adding to the deficit.
"I cannot stress enough that what I care about is doing this right and implementing sound policy," Senator Bob Corker, Republican of Tennessee said in a statement.
Critics said the proposal was a betrayal of the fiscal discipline that Republicans touted during the Obama years.
Representative Nancy Pelosi, a Democrat from California, said the bill "explodes the deficit", creating national debt that will be borne by taxpayers.
Economist Alan Auerbach, a professor at the University of California at Berkeley, said he is also worried about the national debt rising over the long term.
But he is pessimistic that the rhetoric about fiscal discipline will translate into policy.
"Fiscal responsibility is something that nobody really wants to undertake because even if they believe in it personally, when they're actually in control it means giving out less to their constituents," he said.
"That's a pretty hard step for politicians to take."
Promises of growth
The White House says it believes the changes, especially to the corporate tax rate, will spur business investment, ultimately leading to jobs growth and reducing the cost of the plan.
Mr Baker said he is sceptical about growth claims from the White House, saying the 1986 rewrite, which also lowered corporate taxes, had little effect.
"I frankly don't understand [the White House] claim ... that it will lead to this big surge in investment," said Mr Baker. "We've just never seen anything like that."
On Friday, the Tax Foundation, a Washington think tank that has advocated for lower rates, issued an analysis that pegged the potential growth at 3.9%.
Even with that boost, the cuts would reduce revenues by nearly $1tn, it found.
Mr Baker said his problem with the bill is policy, not its contribution to the deficit, given the current low borrowing costs.
"If you have $1.5tn to play with, what's the best thing to do with it?" he said, "I have to say giving a tax cut that will mostly end up in the pockets of higher income people won't be on my list."
But Professor Auerbach said although the deficit isn't an immediate problem, he remains worried the bill will exacerbate troublesome long-term trends.
"This is going to lead to a very large deficit in the future under our current policies," he said.