Paradise Papers: Who are Appleby, the lawyers at the centre of the leak?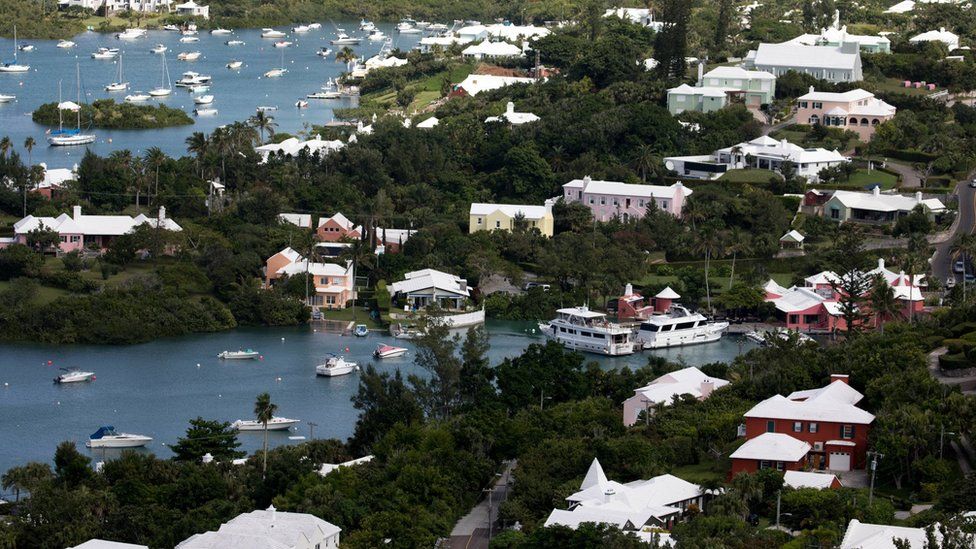 The operations of law firm Appleby are under the spotlight after millions of its documents were disclosed in the Paradise Papers leak.
Anyone who wants to set up an offshore enterprise, for any reason, must navigate the laws and regulations of the territory in question. And for that, they will need lawyers.
Enter Appleby - one of a handful of major international "offshore legal service providers".
Its business is to help clients, be they financial institutions, global corporations or high-net-worth individuals, to set up and register companies and trusts in overseas jurisdictions with low or zero tax rates and high financial confidentiality.
It's the kind of work which, inevitably, can lead to contact with those who have chequered backgrounds, controversial reputations or opaque motives. That's not to say the aims of such clients are not above board.
Appleby, like all legal firms in this field, uses a term for such clients and potential clients - politically exposed persons, or PEPs. A PEP is someone with a prominent profile - a celebrity of the political, diplomatic, military or judicial worlds - who, through their prominent position or influence, is more susceptible to being involved in bribery or corruption. By extension, any close family member of a PEP, is also a PEP.
It is these PEPs, and how the have been handled by Appleby, that are the focus of much of the Paradise Papers. A "register of politically exposed persons", contained in the leak, lists more than 150 politicians and business leaders from across the world who are clients of Appleby.
Legal guides name Appleby among the so-called "offshore magic circle" of law practices.
According to a database compiled by The Lawyer magazine, Appleby's corporate clients include Barclays Group, Citibank, Credit Suisse, Goldman Sachs, HSBC Bank, ­JPMorgan Chase, KPMG, ­Lloyds Banking Group, PwC, Royal Bank of Scotland Group, Santander UK and Standard Chartered.
Appleby's website highlights the awards it has won and the "Band 1" ranking given to it by legal directories, placing it among the top-rated offshore law firms.
Appleby was named offshore firm of the year by Legal 500 UK in 2015.
Such reputations are hard won. The first Appleby practice was established in Bermuda by Major Reginald Appleby in the 1890s. Some 120 years later, it has become one of the largest and best known legal groups in its specialist area.
Appleby has about 470 employees, including 60 partners, in 10 offices around the world. Its branches are in Bermuda, Isle of Man, Jersey, Guernsey, British Virgin Islands, Cayman Islands, Mauritius and the Seychelles, and it has a presence in Hong Kong and Shanghai.
Its reputation partly rests on its rigour, and the Paradise Papers includes a lengthy Appleby document detailing the compliance procedure its officials are expected to follow when handling PEPs.
But even before this huge leak of documents exposing the law firm's business, Appleby appears to have had concerns about its standards. A presentation to its staff in Bermuda in 2012, itself found in the Paradise Papers leak, appears to acknowledge the company may have taken on risky business, referring to concerns around "non-compliance" with its regulatory obligations, including anti-money laundering policies.
A letter in the documents from the Bermuda Monetary Authority, the island's financial regulator, shows concerns were also raised in 2015 over Appleby's anti-money laundering and anti-terrorist financing checks and compliance with trust regulations.
In August 2014, Appleby was warned by the British Virgin Islands Financial Services Commission it was in breach of rules around client checks.
A month later a "high risk client register" features in documents from Appleby's British Virgin Islands office naming people with political or other public roles in countries including China, Russia and Greece. Their work was accepted and "enhanced due diligence" - the process of vetting a client - carried out.
Another register shows Appleby has declined business from potential clients facing allegations of wrongdoing or corruption.
Appleby says it is "focused on the development of new products and the provision of effective service to its many international clients".
Recent years have seen a flurry of corporate change. In 2016, it announced the management buyout of its fiduciary business - which includes accounting and fund management services - renamed Estera.
It was involved in a series of mergers and acquisitions and some of the documents in the Paradise Papers relate to deals originally set up by other practices.
In 2015, it closed its London branch, telling The Lawyer magazine staff could easily do business in the UK capital by travelling from its offices in Guernsey, Jersey, and the Isle of Man. The firm also shut an office in Bahrain in recent years.
In fact, the leak shows the US dominates Appleby's client register. Documents list 31,180 US addresses for clients. There were 14,434 UK addresses and 12,017 in Bermuda. The next highest number were in the Cayman Islands, followed by Hong Kong, China, China, Canada, the Isle of Man, Switzerland and the British Virgin Islands.
In a statement on the Paradise Papers leak, Appleby said it has "thoroughly and vigorously investigated the allegations and we are satisfied that there is no evidence of any wrongdoing, either on the part of ourselves or our clients".
The company said it works in highly regulated jurisdictions and "advises clients on legitimate and lawful ways to conduct their business. We do not tolerate illegal behaviour".
It added: "It is true that we are not infallible. Where we find that mistakes have happened we act quickly to put things right and we make the necessary notifications to the relevant authorities."
The papers are a huge batch of leaked documents mostly from offshore law firm Appleby, along with corporate registries in 19 tax jurisdictions, which reveal the financial dealings of politicians, celebrities, corporate giants and business leaders.