Ladbrokes Coral's Gala Interactive hit with £2.3m penalty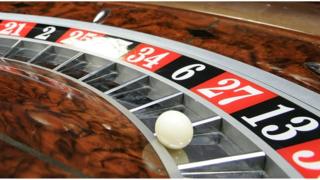 Ladbrokes Coral-owned betting operator Gala Interactive has been penalised £2.3m for breaching rules aimed to protect vulnerable customers.
The Gambling Commission found "significant flaws" in Gala's dealings with two customers who gambled away £1.3m of stolen money over 14 months.
It said Gala had failed to effectively interact with the customers, who were displaying problem gambling behaviour.
Ladbrokes Coral said it accepted it had fallen short of the expected standards.
"In the two cases reviewed with the commission, it was clear that within our operations, we had not met our own standards or those demanded by the commission," said Jim Mullen, Ladbrokes Coral chief executive.
The Gambling Commission said one customer had lost £837,545 over 14 months playing Gala's online games, while the other had lost £432,765 over 11 months.
One of the customers was imprisoned for four years for stealing from an employer, while the other received a four-and-a-half year prison sentence for acquiring, using or possessing criminal property.
'Robust action'
The watchdog's decision was also influenced by the fact that following a previous case in April 2016 with similar findings, the operator had assured the Gambling Commission that customers of concern would be identified sooner and effectively handled.
This assurance was made at the same time that the two customers were gambling with Gala.
The Gambling Commission also found that Gala had failed to put in place procedures and written policies that would curb problem gambling behaviour.
The penalty package requires Gala to pay:
A £1m payment to fund research relating to the causes of problem gambling
£1.3m in compensation to the victims of the two customers
Gala has also volunteered to pay an additional £200,000 to fund research into the causes of problem gambling.
The Gambling Commission's chief executive, Sarah Harrison, said: "We will continue to take robust action where we see operator failures that harm consumers and the wider public.
"It is the responsibility of all operators - particularly key decision makers in those companies - to ensure they are protecting their customers and step in when there is behaviour that might indicate problem gambling.
"This did not happen in this case and the £2.3m penalty package should serve as a warning to other operators."
In August, online betting firm 888 was penalised £7.8m for a similar offence.
The Gambling Commission found there had been "significant flaws" in 888's social responsibility processes, and 7,000 customers who had chosen to bar themselves from their accounts were still able to gamble.