How Joe Mimran's passion for fashion was sparked by a checked suit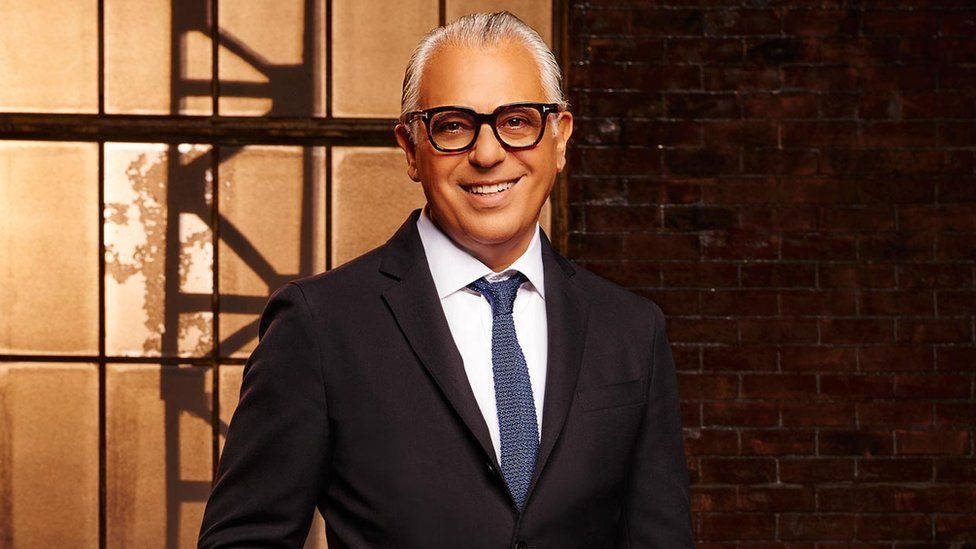 Soft-spoken, gentle, with a broad smile, and generous with his time and advice; they're not the typical attributes of a dragon.
But when Joe Mimran appears on Canada's version of the popular television show, Dragons' Den, showcasing budding entrepreneurs, he's not the kind to breathe fire at you, withering your dreams.
Perhaps it's because that when you come along, full of hope, to present your beloved idea he remembers how that feels.
The 65-year-old Moroccan-born Jewish immigrant has spent his life working in fashion, and is best known as the driving force behind big labels such as Joe Fresh and Club Monaco. But he has had his own ups and downs along the way.
He still believes he is "no smarter" than his peers, but he did have a passion for his work from an early age.
"I always loved design and I always wanted to be an entrepreneur," he says.
Aged 12, he already had a houndstooth suit his mother had made for him, because he wanted to dress like Sean Connery. And although his father had a grocery business, it was his mother's couturier business, making suits and dresses, that caught his imagination.
More The Boss features, which every week profile a different business leader from around the world:
He helped her run the company from the family home and after she opened a small factory in Toronto's garment district, she asked Joe to take over the company's operations.
"I always wanted to get into business and it was a fantastic learning experience," he recalls.
The family firm focused on selling tailored garments for women. But Joe and his brother Saul wanted to go further.
They hired the designer Alfred Sung to design them an off-the-peg line of clothing, to be sold on the High Street, something the company had never tried before.
"It turned out to be a hit with consumers and showed me that a business gamble could pay off," Mr Mimran says.
Then one day in the mid-1980s, he was shopping, searching for a plain white T-shirt. When he couldn't find one he liked, he made up his mind to create a whole new brand of affordable-yet-high-quality clothing.
Unfortunately, Club Monaco got off to a rocky start. Two of Canada's biggest department store chains at the time, The Bay and Eaton's, decided not to carry it, cutting off a major route to market.
The Mimrans were stuck; they had already produced the merchandise, but had nowhere to sell it.
"We realised that we had all these goods coming in and the only way we could move forward was to open our own stores," he explains. At that time, he says, such a move was highly unusual; retail stores typically bought their wares from wholesalers.
However, he recalled how the last gamble he had taken - hiring Alfred Sung - had paid off, and took the plunge.
The bet went his way. There were queues "around the block" on the day their first store opened in Toronto, says Mr Mimran.
"Sometimes you just have to dive in," he says. Even if others are counselling against it.
One of his salesmen once warned him against building a sportswear factory, arguing he lacked experience in that market segment. He ignored the advice.
"We fired him, and we did it anyway," he says.
"A lot of business people, having had lots of problems in the past, will try to dissuade somebody else," he explains.
"But your idea might be done in a new way, might resonate in a way that this very experienced person didn't, couldn't, anticipate."
It worked for Club Monaco. The brand spread to New York and other global capitals before it was bought up by fashion giant Polo Ralph Lauren in 1999 for $52.5m (£40m).
Since then he has continued to launch new brands, including the mass market brand, Joe Fresh, for supermarket chain Loblaw, which operates in Canada and the US.
Its products are a long way from the bespoke tailoring he saw his mother create for the smartly dressed Toronto set all those years ago.
However the brand has faced challenges.
Fast fashion, online retailing, the changes in fortune of some of the big department stores, where designers like him could once rely on showcasing their wares, all of this is making it harder for a traditional fashion brand.
Tanmay Manohar, a mens' style consultant and social influencer in New York says the game has changed for fashion magnates like Mr Mimran.
In the past "there was something of a template to where you need to be to sell your goods," he says.
"However, today, you get your message out... with social media and YouTube. It's a one-click world."
You need faster reactions in a world of apps and instant gratification, he says.
These market forces have buffeted Mr Mimran's latest ventures. A resale agreement with US department store giant JC Penney was terminated in 2015 and the firm's flagship New York store was closed.
So even now, he's been reminded that success is never guaranteed in the competitive world of fashion.
Because of this, he says, he can empathise when meeting entrepreneurs who are struggling.
"I'm not smarter than everyone else out there because you're only as good as your last season," he says. "And, no matter... what you know, you can still fail in our business. It keeps you pretty grounded."
This humble approach - as opposed to dragon-like ferocity - is the key to Joe Mimran's success, according to fashion designer Joseph Tassoni, who at 18 was the junior menswear designer at Joseph Mimran & Associates.
"From the sweeper to upper management, Joe greets and literally says hello to all at the start of every work day," he says.
"He listens to ideas, encourages creativity and talent and pushes you to achieve and possibly exceed your vision and goal."