Toshiba's operating profits more than double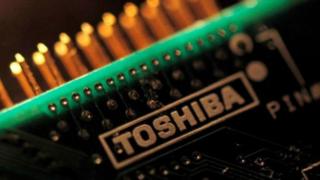 Toshiba's half-year operating profits have more than doubled, but the increase was driven by strong sales at the memory chip business that it has agreed to sell.
Operating profits at the Japanese conglomerate rose to 231.8bn yen ($2bn; £1.55bn).
The chip unit accounts for about a quarter of Toshiba's revenues.
However, Toshiba agreed to sell the unit for $18bn in September to cover losses at its US nuclear business.
The memory chip business is being sold to a consortium led by US private equity firm Bain Capital.
Westinghouse, Toshiba's US nuclear unit, filed for bankruptcy protection in March. It had been struggling with hefty losses, and had suffered huge cost overruns at two US projects in Georgia and South Carolina.
Toshiba came close to having its shares delisted this year after delaying the publication of its financial results.
That threat remains unless the company can boost its balance sheet by the end of its financial year next March.
Despite reporting a big increase in operating profits, Toshiba posted a $436m net loss for the half-year period after taking into account the taxes paid on the sale of the memory chip unit.