Bakkavor hummus maker changes mind over stock market listing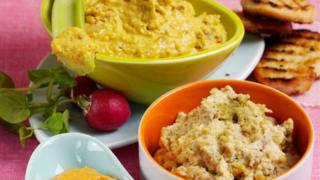 Food processor Bakkavor, the UK's biggest hummus maker, has decided it will list its shares on the UK stock market after all.
Last Friday, the firm, which supplies a range of foods to UK supermarkets, said it would abandon listing plans as the market was "too volatile".
It has now decided to go ahead with the share listing but at a lower price.
The firm wanted at least 195p a share, but they will now have an opening price on the London Stock Exchange of 180p.
That values the firm at just over £1bn.
Bakkavor's fresh prepared foods include dips, sauces, soups, salads and pizzas, which it sells under the own brands of Tesco, Marks and Spencer, Sainsbury's and Waitrose.
It has 26 factories in the UK, and the company also operates in the US and China, where its customers include Starbucks. It employs 19,000 people worldwide, 16,500 in the UK, across 19 sites.
Globally, it has sales of £1.7bn and its most recent profit was £145.6m.
Bakkavor will use the £100m raised by the share offer mainly for further investment and to cut debt.
The company was founded in 1986 by Icelandic brothers Lydur and Agust Gudmundsson and has its headquarters in London.
Shares in Bakkavor are due to begin trading on 16 November.