The man helping Americans access safe drinking water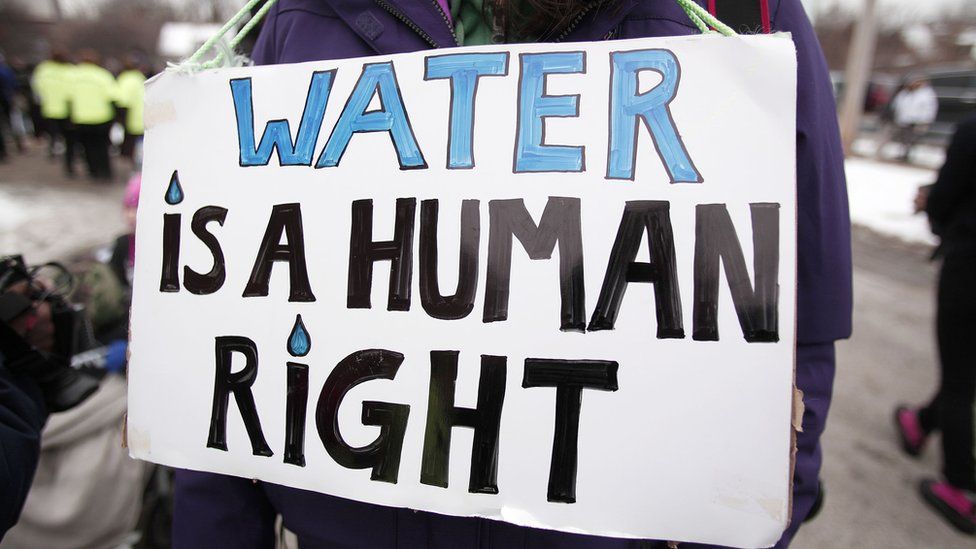 It was one of the worst water contamination scandals in recent US history. In 2015 children living in Flint, Michigan, began suffering from rashes and mysterious illnesses.
Independent testing found dangerous levels of lead in homes and schools, caused by chemicals in the water supply that corroded the pipes.
Officials declared an emergency and residents were told to stop using tap water. They were given free bottled water and filters, but Eric Roy, a chemist living in Washington DC, didn't think regular filters would be capable of dealing with such high levels of lead.
"They wouldn't solve the problem," the 35-year-old says. "So I started building high capacity lead filters just as a charitable effort. I needed to do something."
At the time he was working for a Boston company conducting chemical research for the US military, but he set up a GoFundMe page for donations, and began assembling his water filters with a friend in the front room of his apartment.
"It was very grassroots, very organic," says Mr Roy. "We were buying stuff at retail, assembling it and shipping it to people's homes."
Two years later he has turned his charitable effort #FiltersForFlint into a rapidly growing company called Hydroviv with 11 employees and ambitious plans for expansion.
"After Flint hit the news people started taking a closer look at their water and found that lead is a widespread problem in the US," he says.
In the last couple of years alone there have been numerous contamination scares. In 2014 there were 18 cities in Pennsylvania where experts said childhood exposure to lead-contaminated water was worse than in Flint.
And in 2015, in Jackson, Mississippi, one in five homes exceeded government limits for lead in water.
Replacing pipes can cost millions of dollars which many cities can't afford. Even where that has happened, older homes may still have lead plumbing inside.
Mr Roy assesses the type and level of contamination by analysing publicly available data.
"Once we identify the problem we create a filter that's optimised for that water," he says. "So if you're in an area that has very high levels of Chromium-6 [a carcinogenic chemical compound], we'll make sure the filter has an extra capacity for Chromium-6.
"If you live in a brand new house where there's no lead, but you have high levels of arsenic, we'll make sure we favour the arsenic when we're designing and developing that filter."
Filters cost around $225 (£172), and replacement cartridges, which are needed every six months, cost $65.
"We can also test water if there is a discrepancy between municipal data and the Environmental Protection Agency, but we trust that the scientists for the most part are doing the right thing," says Mr Roy.
"But water quality regulations in the US are quite relaxed, and the public doesn't really understand them. We fill that gap with technology and information."
Mr Roy has a PhD in chemistry from the University of Maine, and started his first business, a consulting company, while he was still studying.
"I'm a bit of an anomaly in that I have a PhD in science and I'm an entrepreneur," he says. "Most scientists are not exposed to anything outside of academia while they're in grad school because their advisors have probably only worked in academia.
"There are universities and colleges right now trying to pierce that bubble - but a lot of those programmes aren't led by entrepreneurs. They're led by people who study entrepreneurs and that's a very different thing."
But Roy says there are similarities between scientific research and running a business. Both entail a leap into the unknown, and can lead to discovery and learning.
His first big lesson in business was learning how to delegate.
"I botched my first patent application," he says. "Then I went to a patent attorney because intellectual property is a huge part of what we do, so you have to do that right.
"In the core part of the business you need to be working with people who actually know what they're talking about."
From giving away a few hundred water filters to people in Flint, Hydroviv now makes thousands of units in a small warehouse in Washington DC, and is close to turning over a million dollars a year.
"As a business we're 100% sustaining and I'm most proud that we've never missed a payroll," Mr Roy says.
Even so, he doesn't take a salary himself, and instead lives off savings and doing consulting work. This enables him to invest Hydroviv's profits into research and development.
He remains the sole shareholder but is talking to potential investors.
"The math is pretty straight forward. On average, every customer that we have refers three people." They are also repeat customers because they need to replace the filter cartridges.
"I definitely think this will be an eight figure business in five years," says Mr Roy. "If not, then we've done something wrong."
Related Internet Links
The BBC is not responsible for the content of external sites.