Is the taboo around male make-up disappearing?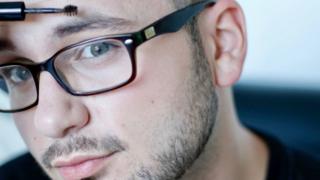 A growing number of young men are wearing make-up and big brands are embracing the trend. Could the stigma around male cosmetics finally be disappearing?
Gianni Casagrande began wearing make-up about three years ago.
The 22-year-old from Middlesbrough says he had "really bad acne" and started using concealer to hide his blemishes.
Impressed by the results, he moved on to wearing a tinted skin primer - or "BB cream" - on nights out and a brow styling gel to control his "bushy" eyebrows.
"There is definitely still a stigma around men's make-up, but I think it's becoming more normal now," the social media strategist and beauty blogger says.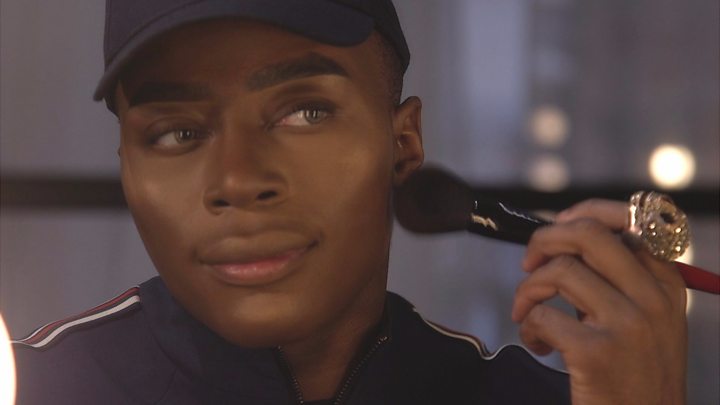 "A lot more of my friends are wearing it, both gay and straight - it makes you feel a lot more comfortable and confident."
With men from popular reality TV shows like Geordie Shore and Made in Chelsea endorsing cosmetics, and beauty bloggers and brands championing the trend, male make-up is in the limelight.
In August, L'Oreal's UK boss, Vismay Sharma, said it was no longer a taboo for the "selfie generation" to use cosmetics and that we could see male-targeted make-up counters in department stores in "five to seven years".
Maybelline, a L'Oreal brand, used a male ambassador for the first time in January, casting social media star Manny Gutierrez in a mascara advert.
And a growing number of brands such as Yves Saint Laurent and Tom Ford sell make-up specifically for men, including "guy-liner" eye pencils, bronzing creams and concealers.
Charlotte Libby, a senior beauty analyst at research firm Mintel, says using make-up "will never be for all men" but there's "definitely a growing audience".
"To put it into context globally it accounts for less than 1% of the market. But the stigma about men being well groomed and enhancing their appearance is falling away and cosmetics are benefiting from that."
Men haven't always been so shy about using cosmetics; ancient Egyptian males wore eyeliner, Romans used rouge, and the Elizabethans and Georgians applied face powder.
It fell out of favour in Victorian times and until more recently had been limited to some in the LGBT community, and performing artists such as David Bowie and Boy George.
But this summer, popular fashion website Asos launched its first ever male-targeted make-up range, saying it was seeing growing numbers of guys "dabbling" with concealers and foundation.
Most, however, were making do by borrowing their sister's, girlfriend's or wife's products, it suggested.
"We want to challenge historical conventions and use our influence to help our customers feel comfortable presenting themselves in whichever way they see fit," says Alex Scolding, head of buying for the firm's face and body division.
The brand Asos is stocking is MMUK. It launched in 2011 with a collection of 12 male-specific products but today offers more than 40, ranging from concealer sticks to liquid foundation, "manscara" to beard filler.
Sales at the Brighton-based company grew from £42,000 in 2012 to £79,000 in 2015, and it plans to open its first shop this spring.
Spokeswoman Lucy Atkinson says the firm initially targeted its products at the gay community, but soon realised this group represented only "about a third" of the market.
"About 25% of our customers are professional straight gentlemen, keen to keep up a healthy and youthful complexion to help them in their careers.
"And 25% consist of young men between 15 and 21 who use our makeup to cover common skin conditions, such as acne and acne scarring, with the rest using it for TV and stage work."
More stories from the BBC's Business Brain series looking at interesting business topics from around the world:
Like L'Oreal's Mr Sharma, Ms Atkinson says the craze for posting selfies on social media is driving interest.
"What began by being able to put a filter on a photo and darkening certain areas of the face to highlight features and hide blemishes, has gone full circle," she says.
"Men are now keen to have a real-life everyday filter in the form of make-up."
Endorsements from popular online personalities have helped, too.
US make-up bloggers such as Patrick Starrr and James Charles have amassed millions of followers on Youtube and Instagram where they often give make-up tutorials and advertise products.
But just how popular male make-up will be in five years "remains to be seen", Mintel's Ms Libby says.
You still can't buy a lot of male grooming products in traditional High Street retailers, she says, which won't help male make-up products reach a wider audience.
In 2016 the average British man spent $36 (£26) on male grooming products including deodorants, shaving products and toiletries, but not make-up. By contrast women spent $252 on beauty products, Euromonitor says.
Of course, men can always use products targeted at women, but many still feel a sense of stigma about this, she adds.
"Make-up is marketed to girls as they grow up, not boys, and it will take a change of approach from brands and retailers to change that."
Mr Casagrande wants to see more cosmetics specifically aimed at men, too. He has used women's products in the past but says they don't take account of physiological differences such as facial hair.
"It is just good to know a beauty brand is focused on men's needs and requirements," he says.
He believes the High Street will adapt, however, and points to the growing number of big brands and retailers experimenting with "gender neutral" clothing ranges.
"I think we will see a lot more male make-up counters in the next five years," he says.
"Tom Ford already has a men's beauty counter in some department stores, so it's already happening. I think the High Street will follow suit."