Brexit secretary seeks transition deal 'early next year'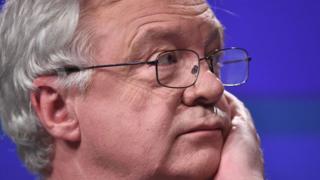 David Davis has moved to reassure the City in a speech at the bank UBS.
He said he hoped to get agreement on a time limited Brexit implementation period "very early next year".
The Brexit Secretary stressed it depends on the EU negotiators obtaining a mandate to agree it but if he can achieve that, that would be very welcome news for many businesses.
It may still be too late for some who have begun to trigger contingency plans and don't intend to mothball them.
The City is also very concerned about the mobility of its workforce around Europe and Davis had some new thoughts on that.
In his speech on Tuesday he said: "We want to ensure that our new partnership with the EU protects the mobility of workers and professionals across the continent.
"Whether this means a bank temporarily moving a worker to an office in Germany or a lawyer visiting a client in Paris, we believe it is in the interests of both sides to see this continue."
'Falls short'
While interesting, this offer falls well short of the kind of access most firms have said they want - or even require - to serve their customers longer term across Europe.
These efforts to reassure the financial services industry come at a time when many banks are actually scaling back their estimates of how many jobs will have to leave the UK.
The audience for today's speech, UBS, said last year it would move up to 1,000 jobs to Europe. A few weeks ago said it was more likely to be 250.
JP Morgan threatened 4,000 UK jobs would go. More recently it said it was more likely to be several hundred - at least on day one.
That is not good news for the Chancellor.
Bankers may not be popular, but given financial services accounts for 29% of all exports and 12% of all tax paid, keeping the City reassured is important.
David Davis had some new lines today but is not yet in a position to offer the level of reassurance it's looking for.