Planemaker Airbus's superjumbo problem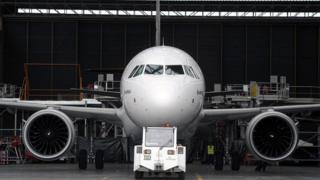 Airbus's celebration of Indigo's massive order for the A320 NEO - which at $49.5bn is its biggest ever single deal - will be muted.
The Dubai show has shown up the sharply contrasting fortunes at each end of the European plane maker's product range.
Its smallest plane, the A320, is selling like hot cakes. It can't make them fast enough.
The largest plane, the superjumbo A380, can't find a buyer. Airbus can't make them slowly enough.
As always with aerospace, where it takes decades to know the final verdict on big decisions, the roots of the current dilemma go back years.
Airbus launched the A320 in 1984, a big bet on toppling Boeing's 737, then the workhorse of airline fleets. It has been an astonishing success, matching the 737 for sales and dividing the short-haul market roughly in half.
Airbus has made more than 7,000 A320s, with about another 6,000 on order.
With the A320 established, Airbus knew it had to tackle the other end of the market, which Boeing had to itself with the 747 - the ubiquitous jumbo jet.
The A380 was the answer.
'Mortal blow'
Boeing, unsurprisingly, claimed there was no market for such a large aircraft, arguing that the aviation market was shifting away from big planes taking passengers between big hub airports, to smaller, more economical aircraft flying point-to-point.
Boeing looks - as things stand - to have been right.
Emirates is now nearly the only customer for the A380, using it to feed its megahub in Dubai.
It would buy more, but it wants Airbus to provide a guarantee that it will keep making the plane even if other buyers don't materialise.
Emirates doesn't want to be left with an orphan fleet. Analysts expect Airbus eventually to come to the party, as it has little choice.
It faces a big battle to make the A380 anything like the success of the A320 - but it can at least console itself with having dealt a mortal blow to the 747, which is slowly being withdrawn from passenger service.