Why Delia Smith is wrong: We do want more cookery books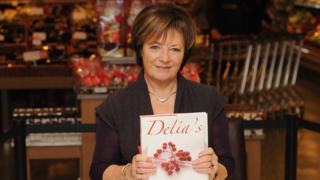 Delia Smith always garners the utmost respect for whatever she says about cookery writing. She is after all queen of the genre. Sorry Mary Berry.
But she has now suggested that as we can all get recipes online, there is no need for cookery books, and that there are already "far too many of them".
She says she won't be releasing another book any time soon.
Yet if you look, the bookshops' shelves are still groaning with glossy volumes. And we are still buying them.
According to the industry periodical, the Bookseller, last year more food and drink books, 8.7 million, were sold than ever before. That was £90.3m worth of books, second only to 2010 in terms of the value of books sold.
True, last month Jamie Oliver announced he was closing "Jamie" magazine because the audience is moving increasingly online. But his latest book, "Five Ingredients", is still flying off the shelves, with nearly 500,000 sold already.
It has already outsold many of his previous books, and is the best-selling book of any genre this year so far, according to the Bookseller, which uses Nielsen BookScan data.
Customers apparently do want more books about food, and Delia, the author of so many books that we view as kitchen bibles, may have to eat her words.
"It's looking good at the moment," says Kiera O'Brien, data and charts editor at the Bookseller. "There's no reason to believe it's going to fall off a cliff."
The number of vegetarian and healthy eating books we're buying is making up for a decline in some traditional cookery books.
On the other hand even Nigella Lawson, whose more "indulgent" style runs counter to that trend, seems to be seeing a pick up with her latest book, says Ms O'Brien. At My Table has only been out a month and has already sold 40,000 copies, she says.
Food and drink publications are so strongly branded, revolving around celebrity chefs and other personalities, says Ms O'Brien, they continue to appeal year after year.
"People want someone they trust," she says.
So it seems we aren't clearing our recipe book shelves, despite the proliferation of online recipes - we're just absorbing the internet into our kitchen habits.
A quick straw poll of my own friends backs this up.
"Recipes somehow feel more legit from a cookbook rather than online," says Susie.
But she admits that she usually only takes them out when she's planning a dinner party. And uses the internet for "impulse baking".
Mia says when her daughter recently declared she was going vegan, the family sat around the kitchen table leafing through recipe books for inspiration. Not something they'd have done online.
But "at five to seven, when you know you've got half an hour to get dinner on the table" it's the internet she turns to.
Above all a book doesn't go to sleep, turning blank, when you are up to your elbows in cake mix, points out Lorraine.
I agree, my own smart phone has suffered more buttery assaults than it's designed to endure.
So the internet, so far, has not completely eaten book publishers' lunch.
In fact it's responsible for feeding many of the new trends in physical sales, says Ms O'Brien.
Last year's sales boom was largely down to the popularity of Joe Wicks' "Lean in 15" trilogy. The fitness coach was an Instagram sensation first before he was signed up to a three-book deal, the first volume of which broke records for a debut cookbook, selling 1.2 million copies.
Before him the Ella Mills online "clean eating" blog earned her a place on bookshop shelves.
And earlier this year Henry Firth and Ian Theasby, vegan friends from Sheffield who run a Facebook channel telling people how to "eat more plants", were given a six-figure book deal by HarperCollins.
Delia's off the cuff remarks about the dim prospects for cookery books came after she was made a member of the Order of the Companions of Honour, at Buckingham Palace on Tuesday.
She probably has better things to do than work out a new way to scramble eggs. But in any case her recipes are available online, anytime. Keep a cloth to hand.
---
How many have they sold so far this year?
Jamie Oliver: 5 Ingredients - Quick & Easy Food 493,523
Joe Wicks: Lean in 15 - the Shift Plan 194,669
Mary Berry: Mary Berry Everyday 164,147
Joe Wicks: Lean in 15 - Cooking for Family and Friends 148,696
Joe Wicks: Lean in 15 -The Sustain Plan 147,050
Joe Wicks: Lean in 15 -The Shape Plan 117,298
Clare Bailey and Sarah Schenker: The 8-Week Blood Sugar Diet Recipe Book 84,563
Hairy Bikers: The Hairy Dieters Go Veggie 70,632
Nadiya Hussain: Nadiya's British Food Adventure 64,253
James Martin: James Martin's French Adventure 59,705