Virgin West Coast rail workers to strike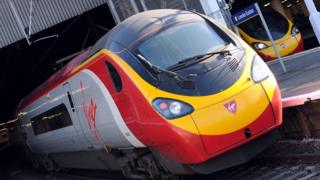 RMT members working on Virgin West Coast have voted 9-1 to take action, including strike action, over pay.
The union said nearly 1,800 workers including train managers and on-board catering workers on the West Coast route from Glasgow to Euston took part.
The RMT said it wanted a "suitable and equal" pay offer to the £500 one given to drivers.
A Virgin Trains spokesman said they hoped to be able to run most services throughout any industrial action.
The firm said: "We are disappointed by the result of the RMT's ballot, but can reassure customers that we will be able to run the majority of services during any industrial action.
"We have offered a 3.2% annual pay increase at a time when the average increase across public and private sector employees is around 2%. We remain open to continuing talks with the RMT."