HS2 contractor Carillion's shares hit by profit alert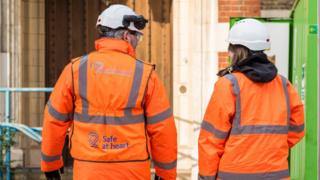 Shares in Carillion, the UK's second-biggest construction firm, fell 48% on Friday after it issued its third profit warning since July and said it expected to breach its loan conditions.
The firm blamed slower asset sales and delays to a Middle East project.
Carillion is a major supplier to the government and helps to maintain schools and hospitals.
It is also part of a consortium building the £56bn HS2 high-speed rail link.
The latest announcement follows separate profit warnings issued in July and September this year.
In its latest update, the company said it might need "some form of recapitalisation" in order to revive its fortunes.
Interim chief executive Keith Cochrane said: "Whilst we continue to target cash collections, reduce costs, execute disposals and focus on delivering for our customers, it is clear that significant challenges remain and more needs to be done to reduce net debt and rebuild the balance sheet."
Carillion said profits for this year would be "materially lower than current market expectations", and it now expected average net borrowing in 2017 to be between £875m and £925m.
---
What is Carillion involved in?
HS2 and Crossrail
Battersea Power Station
Hundreds of UK schools
NHS services
Library of Birmingham
Aberdeen Bypass
Projects across the Middle East and Canada
---
Government 'supportive'
The company said that based on its latest forecasts it expected it would breach its financial covenants - agreements with its lenders - at the end of the year.
The Cabinet Office said it had been "kept informed" of steps taken by Carillion to restructure its business.
"We remain supportive of their ongoing discussions with their stakeholders and await future updates on their progress," a government spokesperson said.
The contractor plays an integral role in the UK's services industry. As well as HS2, it has worked or is working on Crossrail, Battersea Power Station, the Library of Birmingham, and hundreds of schools, where it provides facility management services.
It has also been involved in major projects across the Middle East that include the New York University in Abu Dhabi and the Royal Opera House of Oman.
Shares in the company have now fallen by about 90% this year.
"The company is admitting what we've all already suspected: it will need some sort of debt restructuring," said Sam Bland of JP Morgan. "More organic methods simply aren't going to be feasible".
"If debt restructuring happens, you have to presume that current shareholders would be left with very little value," he added.
In July this year, Carillion shares plunged after it had to set aside £845m in provisions and its chief executive, Richard Howson, stepped down.
At the time, the government was forced to seek assurances from Carillion's partners on the HS2 project that they could step in to complete the work if necessary.
---
Analysis: Simon Jack, BBC business editor
A high profile bust would come at a bad time for a government keen to big up its economic dynamism.
Next week's unveiling of its Industrial Strategy and the chancellor's Budget are expected to feature investment in housing and infrastructure.
Having the UK's second biggest construction firm go under would not improve the economic mood music.
The government is monitoring the situation but might find it hard to do more than that.
Some have said that Carillion is "too big to fail" but Carillion is not RBS and the Treasury might take the view it is "too small to save" and would prefer to let the market do its work.
---
'On the cheap'
Carillion has been scrambling to bolster its finances amid writedowns on some of its projects.
Last month, it resorted to selling its UK healthcare arm to public-services provider Serco for £50m. The sale amounted to "peanuts" considering it was a high-margin business, said Neil Wilson, an analyst at ETX Capital.
"Disposals aren't enough, particularly as Carillion is selling things on the cheap", he said.
He added: "Some investors might think this is the end, but Carillion is too big to fail.
"Government intervention is possible but this is a nightmare for ministers at such a sensitive moment for the economy".
Carillion has contracts in aviation, defence, retail, healthcare, education, oil and gas, and transport. On Wednesday, a Carillion joint venture signed a deal with Oman's Ministry of Health for a new hospital in Salalah which was valued at about £240m.
Other recent deals include a joint-venture contract with Network Rail that the company says could generate up to £260m in revenue over three years.
Mr Bland of JP Morgan said contracts that have hurt Carillion include a hospital in Liverpool, a bypass in Aberdeen and a tramway in Sheffield. All three projects experienced delays of at least a year.
"I don't think anyone's hopeful about Carillion," he said.