Alibaba buys stake in Chinese hypermarket chain Sun Art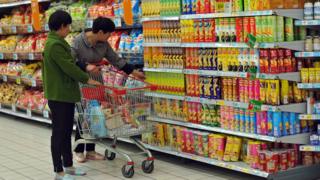 Chinese e-commerce giant Alibaba is pushing further into bricks and mortar retailing by buying a 36% stake in China's largest hypermarket operator.
A unit of Alibaba will pay $2.9bn (£2.2bn) for both direct and indirect holdings in Sun Art, which operates more than 400 stores across China.
The purchase gives Alibaba a leg up in the lucrative grocery sector.
US rival Amazon paid nearly $14bn for upmarket grocery chain Whole Foods earlier this year, in a similar foray.
Alibaba has been looking to integrate online and offline shopping without having to build its own physical stores.
The online giant has invested more than $9.3bn in bricks and mortar stores since 2015, according to Reuters.
Alibaba chief executive Daniel Zhang said: "Physical stores serve an indispensable role during the consumer journey, and should be enhanced through data-driven technology and personalised services in the digital economy."
Grocery shopping
Alibaba's latest deal targets China's $500bn food retail sector, where online businesses have struggled to gain market share.
Analysts believe the deal will have a "positive impact" on both Alibaba and Sun Art.
Steven Kwok, an associate partner at OC&C Strategy Consultants, said Alibaba would get an enhanced distribution network through Sun Art's stores, while Sun Art will benefit from Alibaba's expertise in e-commerce.
"Grocery retailing, unlike other categories thus far, has encountered greater barriers to the shift online, with online sales still in the low single digits of online retail market share," he said.
"This is apparent both within China and globally, but perhaps even more pronounced in China given that beyond the needs of immediacy and convenience, customers also have the habit of being able to 'touch and feel' and ultimately pick the actual produce they are purchasing."
Shares of Sun Art fell by as much as 14% on Monday after it announced Alibaba's stake purchase. They recovered some of the losses to close 4.1% lower in Hong Kong.