The female tech bosses who want zebras not unicorns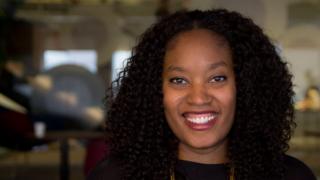 Zebras fix what unicorns break.
That's the motto of a new movement in the tech industry frustrated by Silicon Valley's lust for so-called unicorn companies.
A unicorn is a start-up valued at more than $1bn (£750m) - Facebook is a classic unicorn.
The zebra movement was launched earlier this year by four female founders who struggled to find funding for their tech start-ups.
The entrepreneurs wrote a manifesto calling for Silicon Valley to invest in more female and ethnic minority founders, and to back new companies from such backgrounds that want to be both profitable and improve society - zebras - instead of chasing mythical unicorns.
Aniyia Williams is a co-founder of the zebra movement. She has also set up and runs San Francisco-based Tinsel, which makes necklaces with earphones concealed inside.
She was tired of her headphones being tangled up and lost in the bottom of her bag, and imagined a better, more stylish way to wear her technology.
Aniyia wanted headphones embedded inside a bold, statement necklace. She presumed such a product already existed - and was surprised when she searched online and couldn't find what she was wanted.
So she decided she would create a luxury necklace that looked as good as it sounds.
Her first product, The Dipper, is a bold, chevron-shaped pendant, which conceals the ear buds. It comes in gold and gunmetal and is one of those products that makes you wonder "why didn't I think of that?".
And with the zebra movement Aniyia imagines a better, more inclusive world for female and minority founders.
Her own experience was of a struggle to convince venture capitalists, known as VCs, about her idea.
"I pitched to over 100 investors, and at the end of the day I ended up landing two," says Aniyia, who has also invested personal money in her company.
"I think there are a lot of issues with how the VC model works. It favours a specific type of person over everyone else."
I ask her whether she means white men. "You said it," she replies.
Aniyia's first investor was her boss at voice communication app Voxer. She'd worked her way up from part-time office assistant to leadership roles, and was the head of a marketing team at the San Francisco-based company.
When she told her boss, Tom Katis, about her idea for Tinsel - he loved it so much that he offered to help fund the company himself.
Her other investor is Backstage Capital, which specifically funds companies started by women, ethnic minorities and LGBT founders who are often ignored by traditional venture capitalists.
Less than 10% of all venture capital deals go to women, people of colour and LGBT founders, according to Backstage Capital.
Aniyia, who is 32 and African American, says she thinks too many investors in Silicon Valley are missing opportunities to be part of profitable, sustainable companies because they're chasing things that aren't real - unicorns.
Zebras by contrast, she says, are real. I meet Aniyia in Portland, Oregon at DazzleCon, the first gathering of the zebras, where founders and investors met in person to discuss business strategies and if nothing else, to realize they're not alone. Why the name? Well, in the wild a group of zebras is called a dazzle.
Initially, Aniyia was swept up in the Silicon Valley ethos and planned to build a billion dollar company.
"I was trying to build the Apple for fashion tech," she says. "But I am not trying to build a billion dollar business. That's not even aligned with the lifestyle I want."
Aniyia became pregnant as she was building her company and working with a team to design her stylish headphones.
The reality of building a family and a company, and trying to raise money, made her realize she wanted a business that would be profitable and sustainable - not one with a billion-dollar price tag.
"It was a really challenging journey," she says. "I would say the parts around raising the money was the hardest."
Aniyia started the zebra movement with fellow entrepreneurs Jennifer Brandel, Mara Zepeda and Astrid Scholz. Aside from championing more inclusive business values, the women warn of the dangers of unicorn companies.
"When shareholder return trumps collective well-being, democracy itself is threatened. The reality is that business models breed behaviour, and at scale, that behaviour can lead to far-reaching, sometimes destructive outcomes," they wrote in their manifesto.
Jennifer says unicorns become dangerous precisely because they grow too fast.
"I think a lot of companies have never had an opportunity to grow so fast as they can these days. And with that comes tremendous growing pains at the expense often of the person they're serving," she adds.
"We don't think that unicorns should not exist. We just think that we should exist as well.
"We're trying to point out that there are a lot of businesses that you're leaving out and a lot of amazing founders that you're leaving out."