Budget 2017: Hammond loosens his belt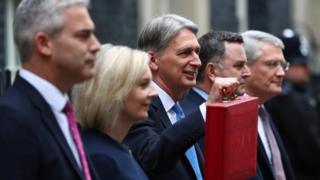 Much of the rest of the world is growing at a healthier clip.
For Britain it is a different story.
Today the Office for Budget Responsibility (OBR) downgraded growth forecasts for the next four years.
And it has been more aggressive with those downgrades than the Bank of England was in its Inflation Report earlier in the month.
The productivity problem is at the heart of that judgement.
The UK just hasn't been very good at producing wealth for every hour worked, and today the OBR lowered its expectations about how fast productivity will recover.
Which means that tax receipts will suffer, by up to £20bn a year by 2023.
Add to that the increase in inflation following the Brexit referendum and the squeeze in real incomes and the OBR is clear - the economy is not as strong as it thought it would be.
The chancellor's response has been two-fold.
First, he has tried to paint a positive vision of Britain's future
He has talked of the good record on employment.
And, in the short term, the news on borrowing is better as tax revenues have been higher and public spending lower.
Second, he has significantly loosened the fiscal tight belt he had thrown around the economy.
In March, Mr Hammond planned for two years of higher spending - giveaways - followed by three years of tax rises - takeaways.
Now he has said that borrowing will be higher for every year of the five-year forecast, and higher spending will last until 2023.
Many economists will welcome such a move, the government doing more to stimulate the economy.
The chancellor has pledged more money for health, a stamp duty tax cut and £3bn to prepare for leaving the European Union.
But debt will continue to rise, and that means the cost of servicing the amount the government borrows will increase.
Much of the government's debt is index linked - so its cost rises if inflation goes up.
And every time the Bank of England increases interest rates, that also increases the cost of repaying the government's bills.
The worry in the Treasury is that they have used up a good deal of the public finances headroom Mr Hammond wanted to build up for the future in case Brexit uncertainty around the economy crystalizes into another growth downgrade.
The question now is what will happen if he needs to find more funding and still hit his target to balance the government's books by the middle of the next decade.
And of course very little in this Budget will affect the key economic headwind everyone is facing.
And that is the fall in real incomes.