Is the ski industry on a slippery slope?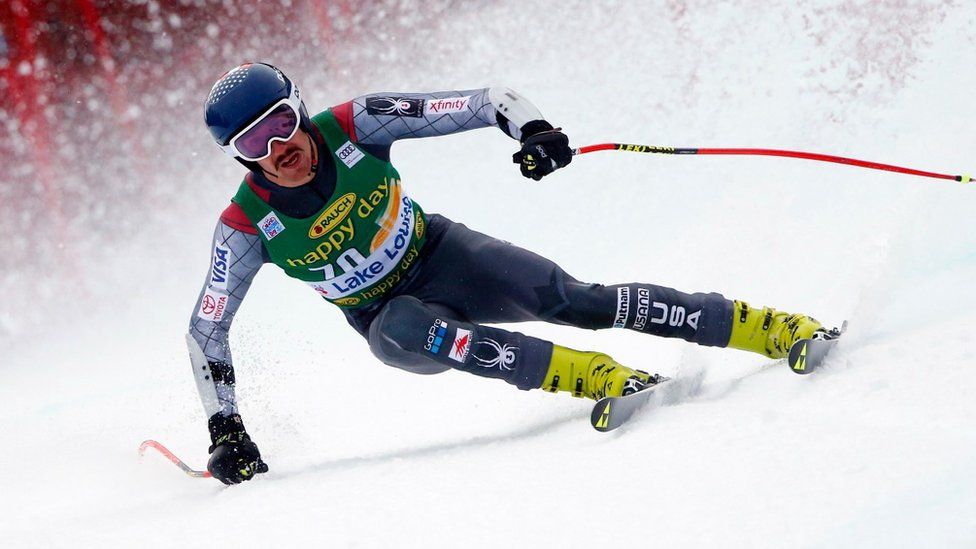 With the latest competitive skiing season taking to the slopes once again and the next Winter Olympics just around the corner, the sport is enjoying a period of high-profile media coverage.
Skiing is more than just an exciting sport, it is also seen as a glamorous leisure industry which brings together healthy sporting activity, tourism and hospitality.
But, like another sport which has traditionally been associated with a certain level of economic affluence - golf - it finds itself facing a number of challenges and opportunities.
While participation appears to have levelled off - or is maintaining slight growth - in traditional territories such as the UK, mainland Europe and US, there is growing interest among citizens of countries such as Russia and China.
Numerous factors are having an impact on the industry - including ageing participants, business consolidation, technological and climate change, and even Brexit.
"Nearly everywhere, the industry is facing the challenge of generating long term growth," says Swiss researcher Laurent Vanat, who each year publishes an International Report on Snow and Mountain Tourism, an in-depth overview of key factors in the ski industry.
"In many places, the market is more than mature and the baby-boomers represent the majority of participants. This generation will progressively exit some of the mature markets without being adequately replaced by future generations with the same enthusiasm for skiing."
And those stats are supported by Charles Owen, managing director of European Pubs Ltd, which operates bars and restaurants in French resorts frequented by skiers from the UK and other nations.
"Like golf, skiing is not a cheap sport, and there is a bubble of wealth that is getting older," he says. "I see a situation in the future ski market, where if we are not careful we are not going to get enough young people into skiing and skiing regularly."
Mr Owen says another challenge facing the continental ski market is the potential effect of Brexit.
With sterling's fall in value since the British referendum on EU membership, it is becoming more expensive for UK skiers to take breaks in Eurozone nations.
"In fact, more people in the industry are becoming terrified by it," he says. "There is no guarantee Britons will continue to come over in such numbers. In France they are concerned if UK firms stop selling the holidays, there will need to be a restructuring of the market."
He says there has already been a demographic change at some "British" resorts, such as Val-d'Isere or Meribel, with the appearance of more skiers from mainland Europe. He also says more Russians have been coming into the French ski market, particularly around the resort of Courchevel.
While admitting to industry challenges, Mr Owen says ski technology has moved forward - with comfier boots and parabolic, curved, skis - making it potentially easier for beginners to take up the sport.
Meanwhile budget airlines have also make it easier to get to resorts, and other disruptors, such as AirBnB mean would-be skiers can put together their own packages without the need to stay at expensive hotels and chalets.
In the traditional Alpine skiing hotbed of central Europe other changes have been taking place to keep the industry relevant and appealing in the 21st Century.
In fact preliminary figures for the last winter season 2016-2017 from Statistics Austria show both the number of overnight stays (68.57 million, up by 0.1%) and the number of arrivals (18.82 million, up by 2.5%) were up.
Dr Robert Kaspar from Schloss Seeburg University in Austria, says people are now coming for shorter breaks, and also looking to incorporate other activities into their mountain stays.
"People want to have other experiences in the mountains, for example on horseback. There is also the development of the culinary experience on the mountain. People want to have an enjoyable time and eat well," he says.
"There have been efforts to make the whole experience remain very strong and attractive. In the current climate people also want to visit countries seen as safe, and also to be more physically active than they used to be."
In addition, he says the trade has also been helped by ski resorts merging to create bigger skiing areas.
"That is good because a skier can cruise in a wider region in a day," says Dr Kaspar.
The key visitors to the Austrian Alps are Germans, the second market is interestingly enough the Netherlands, and there are still UK visitors. "There are always opportunities for new visitors, and our Russian visitors are coming on stream now too," he adds.
In such as enduring market he says there have been a couple of downsides: the tendency of people to hire skis rather than buy them is having an adverse effect on equipment manufacturers, and there is a continued danger of climate change affecting snow availability in resorts under 1,000 metres.
While mature ski locations come up with innovations to keep the visitors numbers coming in, one emerging nation hopes to turn itself into a winter sports powerhouse.
"Winter sports are really really important in China right now," says Simon Chadwick, professor of sports enterprise at Salford Business School.
"Sports like skiing, and developing a winter sports industry, have definitely become a priority. There is a huge interest, related to the growth of the middle class and also the fact that Beijing hosts the Winter Olympics in four years' time.
"The word in Beijing is that money is being diverted from summer Olympic sports towards winter ones."
And he says there is research under way at Tsinghua University to develop all aspects of a winter sports industry.
"They are totally focused, on everything from opening and running ski resorts, to the commercialisation of merchandising and ski wear," he says.
"In terms of markets, China is a significant opportunity for the industry as a whole. The industry can only grow there, whereas in the UK, US and Europe there is a constant threat of interest waning."
But Mr Vanat warns that unless quicker ways are found to teach younger people how to ski, including in China, then the industry faces an uncertain future.
"Otherwise youngsters will get bored, and do something else. Unless there are methods to teach people to ski in hours rather than a week, then underlying structural problems will always be there."