FTSE 100 slips in afternoon trade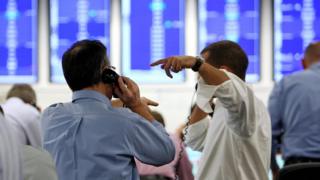 The UK stock market was slightly lower at close despite being in positive territory at midday.
At close the FTSE 100 index was down 25.74 points, or 0.35%, at 7383.90.
GlaxoSmithKline was biggest riser in the index, up 1.77% after UBS lifted its rating on the drug giant to "buy" from "neutral".
Easyjet was boosted by 1.47%, after Paribas raised its rating on the airline to "neutral" from "underperform".
Shares in Aviva rose 0.62% after a report in the Sunday Times said the insurer was planning to spend more than £1bn on a share buyback.
Pearson shares fell 2.05% after the education group said it had sold its language teaching unit Wall Street English for $300m (£225m).
The firm said the sale was part of its focus on "a smaller number of bigger opportunities in global education".
Pearson has struggled recently, issuing several profit warnings, and in March it reported a record £2.6bn loss after writing down the value of US assets.
Outside the FTSE 100, shares in Patisserie Valerie owner Patisserie Holdings rose 8.37% after the company reported a 17% rise in full-year profits to £20.2m.
Ocado shares were up 7.33%, with traders putting the move down to reports that the online grocer could be about to strike a deal with Swedish retailer ICA Gruppen.
On the currency markets, the pound dipped 0.05% against the dollar to $1.3340 and up 0.14% against the euro at €1.1193.