BA owner IAG secures Monarch's Gatwick slots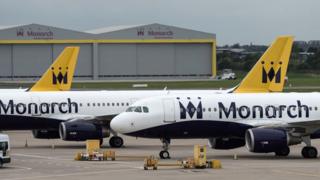 British Airways owner IAG has secured take-off and landing slots at London's Gatwick Airport that used to belong to Monarch before it collapsed.
IAG said the deal would enable its airlines - primarily BA - to offer more flights and new routes from Gatwick.
Monarch collapsed in early October and thousands of its customers had to be returned on government rescue flights.
Its administrator, KPMG, won a court appeal last week for the right to sell Monarch's slots at Gatwick.
KPMG's lawyers said at the time that the slots were its "most valuable asset".
IAG chief executive Willie Walsh said last month that he was interested in the Gatwick slots as a way to boost its fledgling long-haul budget airline Level, which launched in June.
But an IAG spokesman said they would be used "primarily" for British Airways.
"These slots will be used by the group's airlines, primarily British Airways, enabling them to grow their presence at the airport and launch new destinations and add extra frequencies," he added.
The firm, which also owns Vueling and Aer Lingus, faced competition from budget rivals, with EasyJet, Wizz and Norwegian reportedly keen to acquire the slots.
Monarch's take-off and landing slots at Luton Airport are also due to be auctioned off.
Together, the Gatwick and Luton slots are believed to be worth about £60m.
IAG refused to say how much it had paid to secure the Gatwick landing slots.
KPMG partner and joint administrator Blair Nimmo said the Gatwick slots sale "represented an excellent recovery for creditors".
"Our continuing focus is now on MAL's [Monarch] Luton slots, as well as exploring potential rescue opportunities for MAL and its residual assets including its brand and associated licenses," he added.