Premier League football TV rights deal to be decided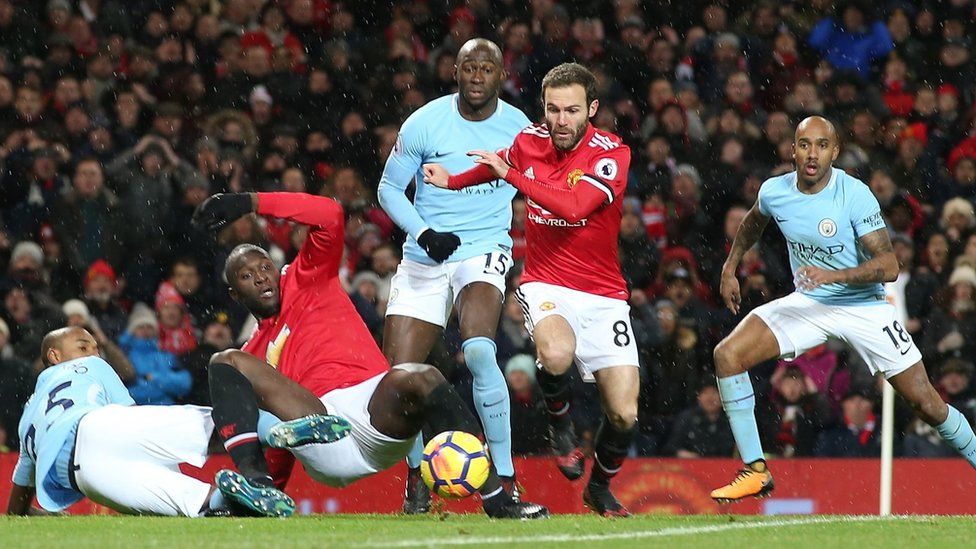 The latest multi-million pound Premier League football TV rights deal is due to be decided early next week.
The first deadline for bids to be entered was 9 February, and the process will resume on Monday.
The league is seeking an increase on the current £5.14bn domestic television deal which runs until 2019.
Bidders, such as existing broadcasters Sky and BT, have had the tender document since December, with 200 games out of 380 matches a year up for grabs.
That's up from 168 live matches in the current cycle.
Other changes for the new 2019-2022 deal include eight individual games shown live in a 'prime-time' Saturday night slot, three complete rounds of 10 midweek matches all shown live and one set of Bank Holiday games.
The live rights deal is broken down into five packages of 32 matches and two packages of 20 matches per season, with no single buyer allowed to acquire more than 148 matches each season.
As well as these changes, there have been suggestions that the current Sky-BT duopoly could be shaken up by new digital entrants, with WPP advertising executive Sir Martin Sorrell and Manchester United executive vice-chairman Ed Woodward among those predicting an entry into the bidding war by a tech giants such as Amazon, Facebook, Twitter or Netflix.
On Thursday, Woodward said: "Reports of the death of live TV football have been greatly exaggerated. The Premier League global audience has increased 9% year on year."
Last time out, in 2015, Sky paid £4.176bn to show 126 matches, including the first Friday evening games and both Sunday packages, and BT paid £960m for 42 games. That was a 70% increase on the previous £3bn deal.
Sky is currently paying an average of £10.8m per game and BT about £7.6m per game.
"It is the most fascinating tender process ever," says one TV industry insider with extensive experience of the sports rights bidding process.
"There are so many imponderables. Is the sports right bubble going to burst? Are these new names in the frame going to risk coming in at the very top just before the bubble potentially pops?
"Or maybe they will decide to wait this time and see if it does burst, and they can then pick up rights cheaper next time round."
A number of tech giants have already dipped their toes into the world of live televised sport.
For example, Amazon has already gone for year-round content by securing ATP tennis rights. Amazon Prime members in the UK and Republic of Ireland will have access to 37 ATP world tour events.
The move was groundbreaking in that it saw tennis move away from from traditional linear TV to an over-the-top (OTT) offering selling directly to consumers via the internet - bypassing telecommunications, cable or broadcast television service providers.
Amazon then snapped up the UK rights to the US Open tennis tournament, precipitating speculation it is now ready to bid for Premier League rights.
"I am guessing that if they were able to win a package or two of games it would be a loss-leader to drive people to Amazon Prime," says the sports rights industry insider.
"But I am not sure if there is enough content in the Premier League rights for the Amazon business model. Also it might not be premium enough. No offence to these clubs, but something like Stoke City against Huddersfield Town might not be a great offering for them.
"Also Premier League football has not got great re-usability. It is not like a TV programme or film where it doesn't matter if you watch it two days later.
"After a Premier League game everyone knows the score and the excitement is quickly gone."
Facebook has also refused to rule out entering the Premier League bidding to stream live matches. In conjunction with Fox Sports it has streamed a number of Uefa Champions League games on Facebook Live this season.
Meanwhile, the ICC's Champions Trophy cricket final was broadcast live on Facebook in June in countries where no broadcaster had bought the rights.
And this autumn it unsuccessfully bid $610m (£456m) for the rights to stream five years of cricket games from the Indian Premier League.
"That IPL bid was really interesting as it showed they are really determined to be a sports player," says Robin Jellis, editor of magazine TV Sports Markets.
"If a new player does come in it has the potential to drive up the cost, which is not something the Premier League will object to.
"The biggest driver of the price for them is competition, or perceived competition."
The biggest player that any serious competitor will have to take on is Sky, of course, which has held rights to live Premier League games since the foundation of the competition back in season 1992-93.
The broadcast giant has recently gone for new "vertical" packing of its sports rights; with new channels dedicated solely to individual sports such as football, cricket, golf and F1.
Not to win any Premier League rights - which admittedly seems an unlikely outcome - would be a spanner in the works of that model.
"Sky's business model has been built upon it having the Premier League. And football has become more important for them this time around," says Mr Jellis.
"If they were to lose a package or two of their current five, it would not be ideal for them, but they could still find themselves with 100 games a season. But if they lost all their packages it would be a complete disaster."
One interesting factor will be the approach Disney takes. It has recently bought 21st Century Fox -including Fox's 39% ownership of Sky. Prior to the close of the deal, it is anticipated that 21st Century Fox will look to complete its planned acquisition of the 61% of Sky it doesn't already own.
In contrast with Sky, sport for BT is an add-on to its core telecoms and data services.
BT Sport is no longer free for broadband customers, and has to pay its own way. The firm has spent £3.8bn on football rights since 2012, but now says it is not in a situation where having Premier League TV rights is "existential for us".
The BT group's ambition is to retain its position as a strong number two behind Sky in pay-TV sports. It also has Premiership Rugby and Champions League football, so to lose the Premier League football would not be a complete sporting disaster.
"My guess is that the status quo and Sky and BT will retain their rights," says Mr Jellis. "If anything does happen it will be Amazon or Facebook winning one of the packages of matches.
"Although there might be some complete surprise, such as we had five years ago when BT emerged from total secrecy to win live games for the first time."