Dow Jones hits 24,000 mark for first time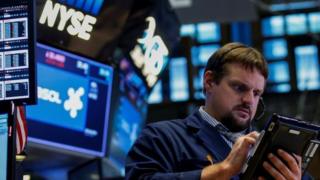 The benchmark Dow Jones jumped above the 24,000 mark for the first time on Thursday as US shares surged ahead of an expected tax cut vote in the Senate.
The proposal, which would slash the corporate tax rate, got a boost of momentum on Thursday after a key Republican said he would back the bill.
The Dow index of blue-chip shares hit 24,029.76, up 331.67 points, or 1.39%.
The broader S&P 500 climbed 21.5 points or 0.82% to 2,647.58, and the Nasdaq rose 49.6 points or 0.73% to 6,873.97.
US shares have reached new highs in recent weeks as tax cuts supported by President Donald Trump have come closer to reality.
Both the Dow and the S&P set records again on Thursday as the Senate, which has been seen as the more uncertain branch of Congress, formally launched a debate on the bill.
Senator John McCain, a key vote, said he intended to back the legislation, a sign the plan is likely to secure the votes it needs to pass.
Republicans aim to complete a bill by the end of the year.
Investors expect to benefit as companies use extra cash to buy back shares or raise dividends.
Energy and industrial firms led gains, with Boeing rising 2.78%.
Other winners on the Dow included Goldman Sachs and Chevron. Fallers included General Electric, and Walt Disney.