'We should own our own livelihood and our own dream'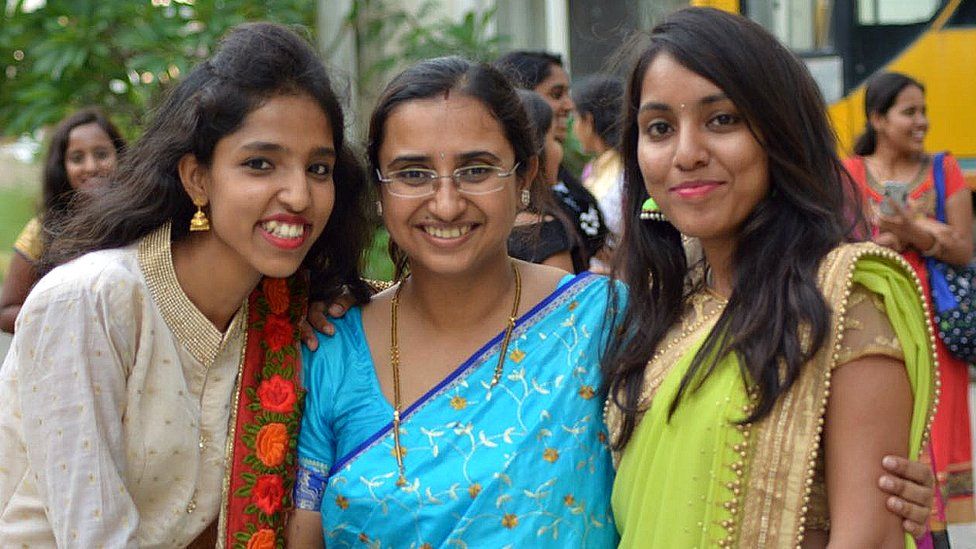 Tanusree Chaudhuri, 34, was pregnant with her first child when her supervisor told her she would have to give up her dreams.
She was doing a doctorate in computational biology and aspired to improve people's health.
"He told me 'you are married now, why do you need a PhD? You should go take care of your family'," she says.
She'd hoped to work in drug discovery creating new medicines, after studying at a prestigious institute near Kolkata, India.
But when she married and moved to Hyderabad for her husband's job, she encountered cultural resistance.
"Married women are expected to take care of family because without family we are nothing," she says. "We're not expected to want the privilege of thinking and doing research."
So when she came across an online "virtual laboratory" enabling researchers to carry out important work from home, she jumped at the chance to get involved.
The Open Source Drug Discovery (OSDD) platform was run by the Indian government and enabled scientists to collaborate remotely, searching for molecules that could be turned into useful medicines.
Dr Chaudhuri found she could work from home at times that suited her and her baby.
"I met many different people [virtually]. I remember one girl was from somewhere very remote. But it was possible to work with her because I spoke to her through Skype. We never met or visited face-to-face," recalls Dr Chaudhuri.
There are many other open source platforms in the scientific community, each with their own specialism, from genomic analysis to cancer research, and many women across India and other emerging economies are finding them very liberating.
After the government-run platform closed in 2016, Dr Chaudhuri and her colleagues began working for another organisation, the Open Source Pharma Foundation (OSPF), a joint venture between pharmaceutical industry professionals and academics.
It is dedicated to discovering affordable medicines by enabling remote collaboration around the world.
Ayisha Safeeda, from Kuttichira in the southern state of Kerala, is from a very traditional Muslim family and lives in a remote area. But she has been able to pursue her Masters degree through the open source platform.
"Even if I feed my baby I can read research papers or I can do work on my laptop," she says. "So women who have high potential but are buried inside the family should come forward."
The work these women do in the virtual lab involves whittling down the choice of potential molecules that could eventually be turned into drugs to fight diseases, such as tuberculosis.
Dr Chaudhuri develops software for OSPF to help scientists from different disciplines, such as biology or physics, collaborate on the platform.
Rakhila Pradeep, another virtual researcher from Tamil Nadu, says she has always loved research but has found it impossible to get to research centres.
"The daily commute to far-flung universities from our rural village is a cumbersome journey and not practical for us," she says. "We were unable to get away from our children and aged family members for days on end."
Dr UC Jaleel, an expert in cheminformatics and computational biology, has supervised many of the projects carried out by these skilled home workers. He believes they are a massive untapped source of expertise.
Recalling his college days, women students usually outnumbered - and outclassed - their male contemporaries, he says. But then they would disappear.
He analysed the statistics in a district of Kerala where he is based and the results were "astonishing", he says.
"These women were all highly educated, but the majority of them ended up as housewives after marrying."
Dr Jaleel is a firm believer in OSPF's crowd sourcing model, particularly if it leads to cheaper medicines for the world's poorer families.
"The common goal is to reduce the time and cost of drug discovery, connect the disconnected and mobilise neglected human potential for humanitarian purposes," he says.
More Technology of Business
Dr Chaudhuri agrees, saying: "Things will progress further. Rather than make everyone gather at one place like an office, let's give others opportunities.
"You might think at night or you might think in the morning. You might think whenever you want. We can get the answer and we will go forward."
Els Torreele, executive director of charity Medecins Sans Frontieres' access campaign, believes crowd sourcing could have an important role to play in affordable drug discovery.
"Open source research collaborations are an important and timely strategy to advance and possibly accelerate medical innovation," she says, "including in the area of neglected diseases where knowledge sharing is even more critical than in other fields."
OSPF is still in its early stages, however, and it's not without its challenges - poor internet connectivity in many rural areas being one of them.
Funding is another concern, although it has received seed funding from Indian foundation Tata Trusts.
Much of the work is now being done via several university servers and social media.
But Dr Chaudhuri, who not only has a PhD but is now an assistant professor, says she and her students plan to work on OSPF to help it expand.
"Dreaming for us Indian girls is prohibited unless we have this kind of opportunity," she says. "We should own our own livelihood and our own dream."