Most driving tests go ahead despite examiners' strike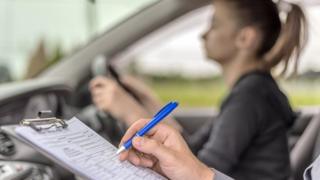 Most people due to take a driving test on Monday did so despite a strike by examiners, the Driver and Vehicle Standards Agency (DVSA) said.
The examiners' strike coincided with a new type of driving test introduced this week.
The action, taken in conjunction with vehicle inspectors, was in protest at changes to terms and conditions and some aspects of the new test.
However, the DVSA said 92% of tests were taken as planned.
The action was organised by the Public and Commercial Service (PCS) union, which warned that thousands of tests could have been be cancelled.
The agency employs about 1,800 driving examiners and conducts some 7,000 car driving tests a day on average.
DVSA chief driving examiner, Lesley Young, said: "Today's launch of the new driving test marks a significant milestone in its history, helping prepare new drivers for a lifetime of safe driving.
"Thank you to our customers for their patience and understanding during this unsettling time and to our driving examiners whose commitment and dedication made the launch of the new test a resounding success."
The agency said just under a quarter of the driving examiner workforce went on strike in England, Wales and Scotland on Monday. A second day of action is planned for Tuesday.
The new test is being introduced along with changes to working conditions, which the union says means that employees will have to work longer and harder.
The PCS union said the new tests were being accompanied by a "flexible working" regime, which gives managers the ability to deploy driving test examiners anywhere they choose without notice.
It said this could mean staff working six days a week, but only being paid for five.
The DVSA said this was "simply not true", adding that it had recruited at least 320 extra driving examiners in the past year.
It said the new test offered a more realistic assessment of driving skills.
What's new about the new test?
There are four main changes:
The independent driving part of the test will increase from 10 minutes to 20
During the independent driving part of the test, most candidates will be asked to follow directions from a sat nav
The reverse around a corner and turn-in-the-road (three-point turn) manoeuvres will no longer be tested. Candidates will be asked to do one of three possible reversing manoeuvres - either parallel parking at the side of the road, parking in a bay, or pulling up on the right-hand side of the road, reversing for two car lengths and rejoining the traffic
Candidates will have to answer two vehicle safety questions while driving
Flexible working
PCS general secretary Mark Serwotka said his union had tried to negotiate: "No one takes strike action lightly and we acknowledge the disruption to the driving tests for learner drivers keen to pass their test."
The strike also involves vehicle inspectors employed by the DVSA, who are also facing changes to their working conditions. The PCS union said about 1,500 members across the two categories were taking part in the strike action.
PCS union members voted by 84% in favour of striking, on a 70% turnout.