Amazon's arrival set to shake up Australia's retail sector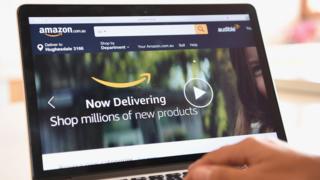 Amazon has made its long-awaited entry into Australia, in a move that could have ramifications for the country's A$300bn (£171bn) retail sector.
Online shopping makes up a relatively small - but growing - proportion of retail sales in Australia.
Geography, poor infrastructure and firms slow to adapt to e-commerce have held the sector back.
Australia's retail industry association said Amazon would help local firms by providing a new sales platform.
Australian consumers could previously buy through Amazon's US site. From Tuesday they can buy locally, as the American retail giant has established a huge distribution warehouse on the outskirts of Melbourne on the country's east coast, home to most of the population.
The move should cut shipping costs and delivery times for Australian shoppers.
The arrival of Amazon has left some retailers bracing for a shake-up of the industry.
Shares of traditional retailers like department store operator Myer Holdings and electronics firm JB HiFi have fallen sharply since Amazon confirmed plans to enter the market in April.
Many of these companies have been slow to develop what retail analyst and chief executive of the Retail Doctor Group, Brian Walker, describes as an "omni-channel offer", linking their physical stores with websites and distribution channels.
Lagging technology
Online shopping makes up between 8% to 13% of total retail sales in Australia.
Among the factors frustrating growth of the sector has been poor access to high-speed broadband in parts of the country.
In the most recent State of the Internet survey, US internet firm Akami ranked Australia 50th in the world for internet speed.
The country's largest infrastructure project - the $49bn rollout of the National Broadband Network - has been hamstrung by delays, policy shifts and cost overruuns.
Australia's sheer land size coupled with low population density makes the logistics of retail delivery expensive. The country is the size of the mainland US, with one-thirteenth of its population.
Mr Walker said Australia was "not an easy country" for e-commerce businesses.
"It's geographically spread out [and] it's relatively expensive for shipping and freight."
Retail woes
The retail sector has seen other challenges.
Bricks-and-mortar retailers have been struggling amid tough competition, and price discounts have failed to entice customers facing low wage growth and high levels of debt.
Australian Retail Association executive director Russell Zimmerman said small businesses have seen rising costs and increased global competition, as well as the challenges of the "24-hour market place".
But he believes Amazon's Marketplace - which has more than 300 million active users - could provide a lift to the Australia sector.
The platform will offer "millions" of products from well-known Australian brands, as well as smaller local business selling on the Marketplace platform.
"The majority of Australian retailers view Amazon's platform as a supplementary channel to their current retail offering," he said.
Still, not all have been impressed with Amazon's first day's trade. Local media reported complaints of limited product range and uncompetitive prices.