The sports games that don't stop for Christmas Day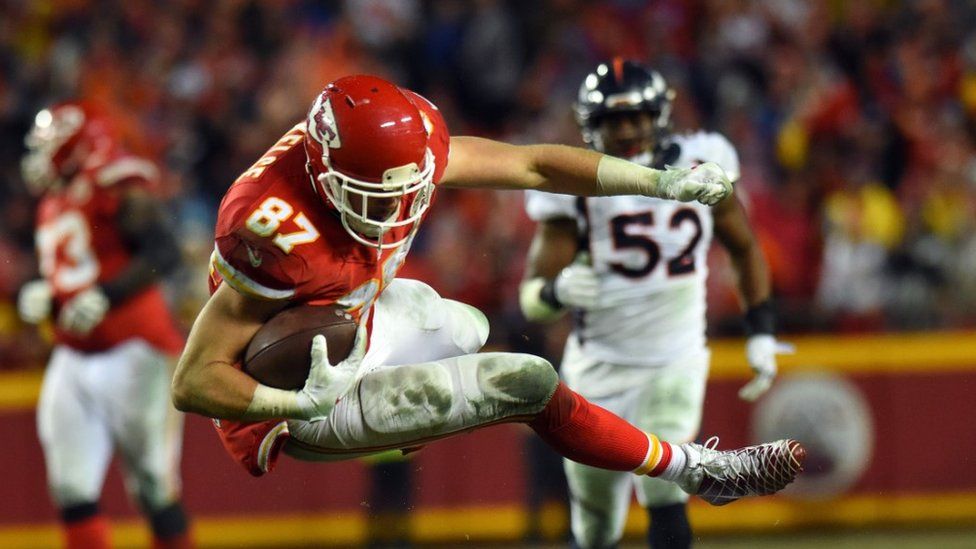 While most of us will be spending Christmas Day at home with our families, a number of highly trained athletes will be taking to the sporting arena for some of the most highly-anticipated contests of the year.
In the US, both the NFL American football and NBA basketball leagues will be holding regular season fixtures this 25 December, fixture scheduling that may seem unusual to European sports fans, but something that is considered normal in the states.
There have been 19 NFL games on Christmas Day over the past 46 years, 17 of them since 1989, with another two fixtures - Pittsburgh Steelers v Houston Texans and Oakland Raiders v Philadelphia Eagles - taking place this year.
The two games will be shown on national television, the first on NBC and the other on ESPN, offering the teams a rare showing in the national spotlight in a country where live TV matches are usually confined to regional broadcast.
"The games are a very positive thing for the NFL, and for the teams involved," says Alistair Kirkwood, managing director of the NFL in the UK.
"And - because it is known well in advance if there will be Christmas Day games - there is no controversy about hosting matches on this special holiday day."
He explains that games during the season are held on Thursdays, Sundays and Mondays, with the occasional Saturday night game.
"If Christmas Day falls on one of these days then the games will get played, if it doesn't then there are no games as would normally be the case."
Thus there were two games in 2016 when Christmas Day fell on a Sunday, and again this year when it is on a Monday.
"There is a real kudos in being involved in one of these national TV games, when up to 20 million people tune in," Mr Kirkwood adds.
"Most games are shown only on television in their home states, so to be seen in the national window, to be seen coast to coast to the biggest audiences, is a huge attraction and opportunity for teams."
Scheduling for the NFL season, which runs from September to February, is done in April.
"Some of it will be based on the question of games on TV per team, similar to the English Premier League, with each club being given a set minimum and maximum number of games on national TV," Mr Kirkwood says.
"So everybody knows eight months in advance that they will be playing on Christmas Day."
And Christmas NRL games are played in all weather, including deep snow, and are only halted for lightening.
As UK sports fans know, getting to sports fixtures during the festive season can often turn into a public transport nightmare. And travelling by car can bring problems in finding parking spots around the inner-city homes of Premier League football teams.
Indeed the Premier League was forced to move a proposed Christmas Eve night time clash between Arsenal and Liverpool this year, with fans of Liverpool's followers facing the prospect of being stuck in London for Christmas Day.
However, in the US the vast majority drive to NFL stadiums, which are on the outskirts of cities, and have huge on-site car parking spaces.
"There are no empty seats at Christmas day games," says Mr Kirkwood.
This year marks the 70th anniversary of the NBA playing basketball matches on Christmas Day, having first started the tradition in 1947 with three games.
The NBA on Christmas Day is now a global event televised in more than 200 countries and territories, and in more than 40 languages.
Five games will take place this year for a 10th season in a row, and in the US three of the games are being shown on ABC television, one on ESPN and one on TNT.
After this year's round of games, the NBA will have played 247 games on Christmas Day, a testament to the enduring appeal of the festive games.
"The NBA on Christmas Day is cemented as a tradition for teams, players and fans alike," says Benjamin Morel, NBA's EMEA senior vice-president and managing director.
The NBA says that the festive games are played "in a truly family, festive environment", and provide teams with another means "to connect with fans in a unique way, both in-arena and through tailored TV spots".
The highlight this year is the rematch of the 2017 NBA final, when the Cleveland Cavaliers meet the defending champions Golden State Warriors.
The games are scheduled prior to the start of the basketball season, as part of the full schedule of games, and are not differentiated from other games in terms of media rights.
Arguably the best-known Christmas Day game of football featuring UK players was the wartime kick about between British and German soldiers in No Man's Land in Flanders in 1914 during World War One.
However, perhaps less well known is the fact that Christmas Day football was a staple part of Football League fixtures in England from late Victorian times until the 1950s, and of the Scottish game until the 1970s.
In 1958 there were three First Division matches played on Christmas Day and one in 1959. Christmas Day football in England spluttered to a halt after Blackpool beat Blackburn 4-2 in 1965, in front of 21,000 spectators.
BBC football expert Jimmy Armfield, a former Blackpool and England player, says Christmas-time fixtures were always attractive and the crowds at that time of year were always good.
In Scotland, Christmas Day football was only played when it fell on a Saturday. The last matches played were Clydebank versus St Mirren, and Alloa versus Cowdenbeath in 1976.
The last time a full set of Christmas Day fixtures was played in Scotland was in 1971.
One country that might seem ripe for Christmas Day sport is Australia, given its December summer weather is ideal for sporting fixtures.
And indeed Sheffield Shield cricket matches were played on Christmas Day until the late 1960s, and the Third Test between Australia and the West Indies in 1951 included action on 25 December.
However, attempts over the past two years to stage Twenty20 Big Bash League cricket games on Christmas Day have failed to get off the ground.
Organisers say the idea remains on the agenda, but it is meeting resistance from the Australian Cricketers Association, which says players should be able to spend the day with family and friends.
So, for now at least, the US remains the only major country where sports fans are spoiled for choice on Christmas Day.