German banking regulator 'cannot believe' there will be no Brexit deal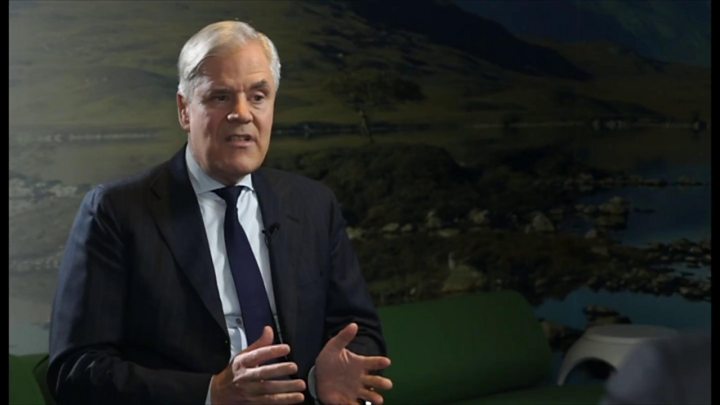 After all those Irish border skirmishes, here's some better news on Brexit.
The Bundesbank - the German equivalent of the Bank of England - is optimistic that a free trade agreement between the UK and the European Union can be achieved.
Indeed, one of their most senior executives told the BBC he "cannot believe" there will be no deal - although it wasn't a "zero possibility".
Which just about says it all for the delicate nature of the present position.
"There's too much at stake that I cannot believe that there will not be an agreement," Andreas Dombret, executive board member of the Bundesbank, told me.
He said that regulators were working closely together to mitigate any effects of a "cliff edge" in March 2019, should Britain leave the EU with no deal - even though he does not expect that to be the outcome of the Brexit process.
And Mr Dombret warned that a disorderly Brexit would have harsh economic consequences.
Long road
He also revealed that 50 "mostly medium sized banks" had yet to contact supervisors on the European continent about Brexit.
He said that the Bank of England and other European central banks were in touch with the banks to impress upon them the importance of preparing for "the worst" - if that were to come to pass.
"There's quite a large number of banks, more than 50, which have a passport out of London, and have considerable EU business, which have not contacted yet either the European central bank or the Bundesbank or other national supervisors," he said.
That suggests there are still a number of financial organisations based in the UK that have a good deal of road to travel in preparing for Brexit.
Mr Dombret is responsible for financial supervision at the Bundesbank - and so his opinion matters.
He is also in close contact with the European Central Bank, the Bank of England and the UK's major international banks.
"I think there is a good chance of achieving a smooth Brexit, but we should not cease in our preparatory work because we have to continue expecting the best and preparing for the worst.
"It is not a zero probability at all - but I hope that we have a smooth Brexit."
Delayed decision
Mr Dombret said that larger banks were now prepared for a hard Brexit.
That's where the UK leaves the EU without a trade deal and enters a "third country" arrangement under World Trade Organization (WTO) rules.
And I have covered the risks of that scenario before, in an interview with the head of the WTO, Roberto Azevedo.
But despite the preparations, Mr Dombret said many banks would not make the final decision about whether to move operations to the rest of the EU or radically change their legal structures until next June.
"I think that the first quarter of next year already is a period of time when most decisions will be made, and it's May or June of next year, where there is the point of no return and you have to implement your final decisions," Mr Dombret told me.
"Most banks are very much prepared, have taken their decisions, but they're waiting until this very last moment.
"But then they will have to implement their final decisions."
Mr Dombret reflected the view of many in the City of London and across the financial services sector in the UK when he said that he hoped there would be "as little change as possible" in financial regulations between the EU and Britain once Brexit has happened.
He said that a disorderly Brexit with no trade agreement would be a "manageable but costly and inefficient process".
"This would be of course a very bad scenario - no free trade agreement and no transition period, that is probably the hardest of hard Brexits you can measure.
"Nobody wants that and the macro-economic effects would be rather harsh, especially on the UK, less so on the EU."