Labour may move parts of Bank of England to Birmingham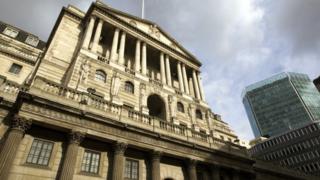 The old lady of Threadneedle Street may have to leave her home of 283 years under Labour plans to move large parts of the Bank of England to Birmingham.
A report, commissioned by Labour, claims banks have distorted the economy by lending to "unproductive sectors".
Shadow chancellor John McDonnell said the current financial system was not delivering investment across the UK.
The report said that moving areas of the Bank to the Midlands would help create a "new economic policy hub".
It calculates that investment in UK manufacturing, high-tech companies and other "critical sectors" lags behind property by £28bn.
Mr McDonnell said: "Under the Tories, we've seen more and more investment flowing into property speculation whilst high-tech firms have been starved of the money they need, and research spending has lagged far behind."
The report states: "As a central bank sitting at the heart of the UK financial system, the Bank of England needs to be playing an active, leading role, ensuring banks are helping UK companies to innovate."
Policy hub
The report by GFC Economics and Clearpoint Corporation Management highlights that productive sectors are increasingly concentrated in a small part of the country.
It says that there is a risk that "the disproportionate number of technology companies in London and the South East will increase, exacerbating regional inequality".
It suggests relocating the National Investment Bank and the Strategic Investment Board secretariat and research department, both organisations which Labour said it will set up if it wins the next election, in Birmingham.
It says with some of the Bank of England: "All three, side-by-side, would constitute a new "economic policy" hub, possibly close to the main train station [Birmingham New Street]."
It adds: "Restructuring core Bank of England responsibilities will help to provide a counterweight to the dominance of London."
The report also proposed establishing Bank of England offices in Glasgow, Cardiff and Belfast, and two smaller regional offices in Newcastle and Plymouth.
The Bank of England relies on 12 agencies across the UK to report on local business conditions.
Birmingham, the UK's second-largest city, will become home to the HSBC's ring-fenced UK retail bank in January.
Earlier this year, Andy Street, the former managing director of John Lewis, was elected as the Conservative mayor of the West Midlands.
The Bank of England has been on Threadneedle Street since 1734 and occupies a site spanning 3.5 acres.
The Bank declined to comment.