How a love of comics inspired a global fashion brand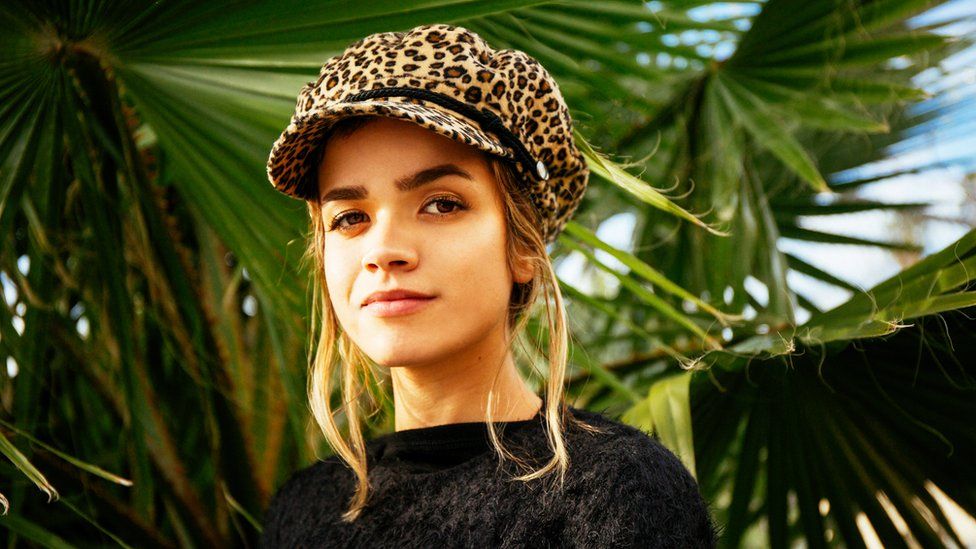 Ilse Valfre was just 22 years old when she started a blog that would take her from a being nursery teacher to the owner of successful fashion, accessories and art business.
Today fans of her Valfre brand include actresses Jessica Alba, Emma Roberts and Bella Thorn, but she's had to fight to protect her designs and overcome many logistical hurdles.
"I loved kids, but it wasn't my calling," says Mexican-born Ilse, who quit her teaching job in San Diego, California, in 2010 to blog full-time about her artwork.
"I didn't want to go back to school and study fashion, but I wanted to do something related to it.
"Drawing was always a hobby, so I decided to post my illustrations and build a business around my art."
For some that might sound like a risky plan, and indeed Ilse had to move back into her parents' home in the Mexican city of Tijuana, just across the US-Mexico border from San Diego, to save money.
But her drawings - of edgy, cartoon-like female characters, influenced by her love of comic books and Japanese anime - soon attracted attention.
"I would draw these women wearing fashions that I couldn't afford and share them on my blog," she explains.
"I blogged twice a day, every day, and began gathering like five followers after every post. A year later, I had a pretty decent following."
It all fell into place when Ilse discovered that her designs were being copied and used on clothes sold on the internet in China.
"That's when I knew there was a market for my work, and it motivated me to create my own product."
She produced her own line of tote bags and t-shirts, which led her to launch the Valfre brand in 2013. Today, the now Los Angeles-based firm sells a wide range of women's clothing and accessories inspired by her artwork, plus prints and greeting cards.
The firm has grown quickly, posting sales of $2m (£1.5m) in 2016, and is now sold in 28 countries via stores such as Urban Outfitters and Nordstrom.
Ilse, now 30, believes social media played a huge part in the growth of the brand, and credits much of its success to photo sharing site Instagram.
"Instagram was really new when I started," she says. "When I decided to launch my brand, I only had about 25,000 followers, but they were very engaged in what I was doing. I would put up my prints and they were selling out in less than an hour."
Today, the company counts nearly 700,000 followers on the social media platform.
Fashion and retail analyst Charcy Evers says: "It used to be designers had to get their wares in front of magazine editors, with the hopes of them promoting them and becoming the next 'it' brand.
"Today, social media plays that role, especially Instagram with fashion. But the key is to stand out from the crowd and rise above the noise with a specific point of view and message. And to be consistent. Valfre did all of these things and it paid off."
Despite the brand's success, Ilse faced hurdles as she tried to get the business off the ground.
In 2011 she started selling her apparel on Big Cartel, an online marketplace for fashion in the US.
But because Mexico's mail service was so unreliable, she had to take her products from her parents' home in Tijuana to San Diego, from where she would post them.
She remembers: "I would walk across the border - I didn't have a car at the time - twice a week, Tuesdays and Thursdays.
"The lines were insane sometimes, and often it would take me three hours to cross."
It was later in 2011, while attending the Coachella music festival in California, that Ilse's life changed forever, both personally and professionally.
More The Boss features, which every week profile a different business leader from around the world:
She met her now husband Donald Eley, a start-up entrepreneur who recognised the potential of Valfre as a brand. He has since become the company's chief executive.
"He really believed in my artwork and helped me put together a business plan and find people who might be interested in investing," Ilse says.
For a while the couple had to store all of the firm's inventory in their two-bedroom apartment, even after their first child was born.
"The place was filled with boxes," says Ilse. "My husband and I were doing customer service, fulfilment, everything, and it was just getting out of control.
"But we didn't have enough money to move to an office or hire anyone."
That changed in 2014, when sales picked up, and Valfre was able to hire its first member of staff and rent an office in LA.
Ilse credits the runaway success of a 3D silicone phone case released by the firm for helping Valfre to break into Asia.
The case was called "100% boys tears" and designed in the shape of a milk carton, replete with a drinking straw.
"It went viral," she says. "There were so many girls, especially in Korea and Japan, interacting with the case, and taking selfies pretending to drink out of the straw. It opened up the market in Asia for us."
As the company continues to grow quickly, Ilse says the biggest challenge it still faces is people copying her designs.
In May 2017, Valfre began legal action against two high street fashion retailers, Rue 21 and Forever 21, alleging copyright infringement. Rue 21 has settled with Valfre, while the battle with Forever 21 - which denies liability - is headed for the courts.
Ms Evers says copying is a common problem in the fashion industry. "We live in a transparent world with access to information all around us so it's fair game, especially in fashion. Trademarking and copyrighting designs can be difficult, if not impossible."
She adds: "The key is to keep to your vision and be the original, because it's so easy to spot the knock-offs."
Ilse now wants to expand beyond fashion and art. She would like to produce a TV show based upon her characters and perhaps open a theme park at some point in the future.
"I want to offer more to our customers and fan base by bringing these characters to life," says the ambitious entrepreneur. And few would be surprised if she got her way.