Five reasons why the Murdochs are selling Fox to Disney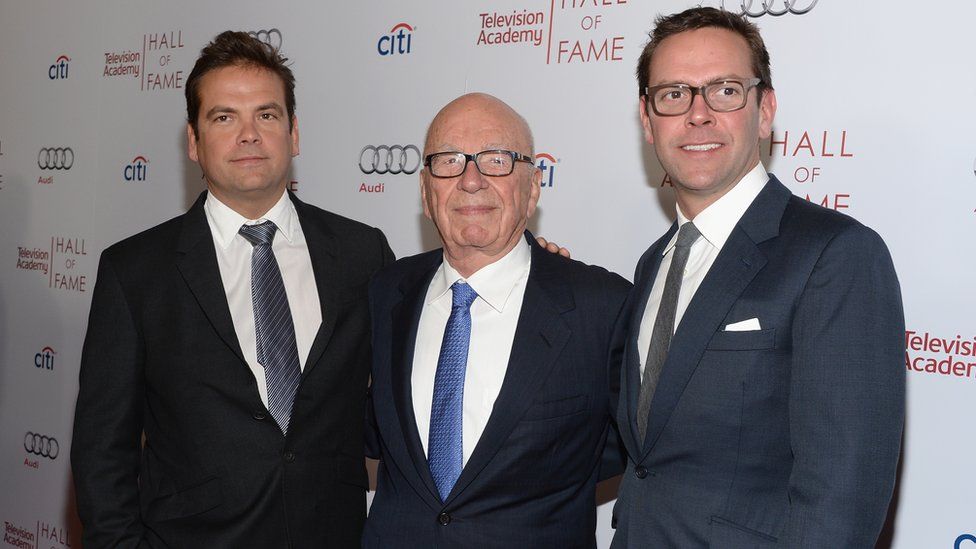 A multi-billion dollar deal has been announced that will see Disney buying film and television assets from 21st Century Fox, which is led by the Murdoch family.
The purchase could lead to a major shake-up in the global media industry and marks a strategic shift for the Murdoch family, which is known as an empire builder.
So why did the Murdochs - who control about 39% of Fox's voting rights - agree?
1. The media industry is changing
Fox is selling its movie studios, television productions, regional sports and international businesses, including Star and Europe-based broadcaster Sky, leaving a smaller company more narrowly focused on news and major live sports events.
The sale means Fox is left with content believed to be more resistant to the threat from online ads and streaming - and which are dear to Rupert Murdoch's heart.
At the same time, Fox sheds parts of its business that have suffered from revenue declines in recent years.
"Any honest observer has to be disappointed in Fox's content cycle in film and on the Fox network over the past two years," analysts at Moffett Nathanson wrote last month. "As such, it makes sense to re-think 21st Century Fox's asset mix now."
2. The Murdochs will get a piece of Disney - and online streaming
Disney wants Fox's business to create a larger suite of movies, television shows, and sports, as it invests in its own online streaming platforms to compete with Netflix and Amazon.
The deal gives Fox shareholders - which include the Murdoch family - a roughly 25% stake in Disney, so they win too if the gamble succeeds.
"This transaction is a game changer like no other," James Murdoch said in a call on Thursday.
The two companies already have interests in common through investments both firms have made in companies such as Vice and Hulu, which will be majority controlled by Disney when the deal closes.
The deal has led to speculation that Rupert Murdoch's younger son, James, will take a spot at Disney - discussions Mr Iger said were ongoing.
A move would address reported strains in the Murdoch family over the direction of Fox, which has been led by a family triumvirate of sorts since 2015, with James as chief executive, and Rupert and elder son Lachlan as executive chairmen.
James, who reportedly favoured a break-up, is viewed as less committed to the news part of the business. He has also worked to distance himself from his father's right-wing politics, which have sometimes embroiled the firm in controversy.
James has deep ties to the parts of Fox involved in the deal, including the international holdings such as Sky, where he served as chief executive and remains the company's chairman.
If he does switch to Disney, it could place him in the running to succeed Bob Iger, chairman and chief executive, who has been talking about retirement for years. (Mr Iger, who once said he would retire in 2015, will now remain at the firm until 2021.)
Speaking of Sky... Fox's plan to take full control of Sky, acquiring the 61% it does not currently own in a bid for greater scale, has run into trouble with UK regulators.
Selling the firm's Sky stake to Disney distances the Murdoch family from the deal, which could make the takeover less politically fraught.
It also splits Sky from Fox's news holdings, which might answer regulator concerns about competition and news standards.
Fox said it is "totally committed" to completing the Sky acquisition, but the deal with Disney does not depend on it.
5. Disney made an offer Fox couldn't refuse
Fox's shares have jumped more than 30% since the first report that the firm was open to sales talks.
The surge reversed declines in recent years, after the firm failed in a bid to acquire Time-Warner and grappled with a sexual misconduct scandal at its flagship Fox News channel.
"Everyone has a price," says Brian Wieser, senior analyst at Pivotal Research.
Other Fox suitors, such as Comcast, sparked concerns about how competition regulators in the US might respond to a deal. (They recently moved to block a merger involving AT&T and Time Warner.)
Regulators will have to approve a Disney deal too, but the company believes it has a better chance of making it past a competition review.
Analysts have speculated that the sale will provide room to pursue other targets, or Fox's remaining assets could be recombined with Murdoch's newspaper holdings, which were spun off as the independent company News Corp in 2013.
"Are we retreating? Absolutely not," Rupert Murdoch said on Thursday.