Toshiba settles legal disputes with Western Digital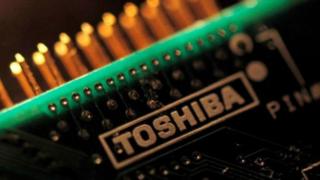 Toshiba has settled a legal dispute with partner Western Digital that could have prevented the $18bn (£13.3bn) sale of its prized memory chip unit.
Both firms agreed to withdraw all claims against each other which ensures "all parties are aligned" on the sale to a consortium led by Bain Capital.
Toshiba needs to sell the chip business to cover heavy losses at its US nuclear unit.
But its US partner Western Digital had threatened to block the sale.
In a joint statement on Wednesday, the parties said they had agreed to resolve all ongoing litigation and arbitration disputes.
"We are very pleased to have reached this outcome, which clearly benefits all involved", said Yasuo Naruke, senior vice president of Toshiba.
The agreement allows Western Digital to invest in a new production line for advanced memory chips and guarantee future supply for the firm.
The legal battles started earlier this year after Toshiba said it would sell the chip division to cover big losses arising from the firm's now bankrupt US nuclear power unit.
Bain Capital partnered with South Korea's SK Hynix Inc and brought in US buyers of Toshiba chips such as Apple and Dell in order to buy the division.
After failing to win the bid, Western Digital took legal action against Toshiba arguing that the deal could not happen without its consent because of their existing joint venture partnership in the memory chip business.
But Western Digital chief executive Steve Milligan said on Tuesday that litigation was not the firm's preferred path and "we're very pleased to be able to resolve this".
Toshiba has been under pressure to clinch a deal in order to shore up its balance sheet by the end of its financial year next March to avoid being delisted.
In September, the Japanese firm said the sale of Toshiba Memory would boost its finances by 740bn yen (£5bn) after taxes.
That would pull it out of negative shareholder equity, key to ensuring it remains a listed entity.
News of the settlement saw Toshiba's shares rise 2.3% in early trading in Japan.