Fake baby milk formula scare hits Malaysia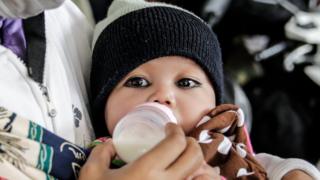 Malaysian authorities are investigating the safety of infant formula powders after seizing hundreds of packets of counterfeit products.
Manufacturer Mead Johnson said the goods imitated its Enfalac A+ Step 1 formula.
The government is testing the powders amid reports of parents saying their children suffered fevers and rashes after consuming the fake products.
But authorities have not received reports of illness.
Malaysian authorities seized 210 boxes of suspected fake infant formula in five raids on Sunday. The products were removed from pharmacies and convenience stores in Johor Bahru.
The ministry of domestic trade, co-operatives and consumerism said it is waiting for test results on the milk formula seized.
"We will name and shame whoever is behind this," minister Datuk Seri Hamzah Zainuddin said on Wednesday.
He advised parents to exercise caution when buying the milk powders, and to look for the features that could differentiate genuine from fake products.
The concerns relate to Mead Johnson's Enfalac A+ Step 1 in a 1.8 kg carton, which contains three foil packs in each box.
The firm said the counterfeit products can be identified by examining the individual foil pouches, and genuine Enfalac A+ Step 1 pouches are "a bit puffy".
The fake packets are "tight-fitting" and have "distinctive sharp creases on both sides".
Media reports said parents had claimed their children who may have been fed the imitation products suffered rashes and fever.
But on Wednesday, the health ministry said it had not received any reports of illness caused as a result of the consumption of imitation milk formula.
Earlier this week French baby milk formula maker Lactalis ordered a global product recall over fears of salmonella contamination.
The recall - which covers hundreds of baby milk powder products - affects goods and exports to countries including Britain, China and Pakistan.