Sky News faces uncertain future after Disney-Fox deal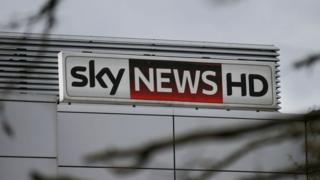 Walt Disney's agreement to buy most of 21st Century Fox's business for $52.4bn (£39bn) has raised further questions about the Sky News channel's future.
Before news of the deal, Rupert Murdoch's Fox had been trying to buy the 61% of satellite broadcaster Sky that it does not yet own.
That attempt attracted the scrutiny of the Competition and Markets Authority (CMA), which is investigating it.
But of all the channels that Sky has in its portfolio, including sports and movies, it is the ownership of its news channel that raises the most difficulties.
Last month, Sky sent shivers down the spines of Sky News journalists by threatening to close the channel if it proved to be an obstacle in Mr Murdoch's takeover bid.
Now it seems that Sky News could fall into Disney's hands as a result of this latest piece of corporate wheeler-dealing.
After all, Fox's efforts to take over Sky become less politically sensitive if the Murdoch family's existing 39% stake in Sky has been sold to Disney, making it more likely that the takeover will go ahead.
Heavy losses
So now the question is: will Disney want to keep pumping money into a loss-making news channel that serves only the relatively small UK market?
Claire Enders, founder of research firm Enders Analysis, points out that we may not know the answer to that for another 18 months, since the Disney-Fox deal will itself have to clear regulatory hurdles and is likely to come under close scrutiny from EU competition authorities.
However, she is sceptical about Sky News's ultimate fate.
She told the BBC: "Inherently, Disney is not a company that engages in political investment. It runs businesses that make profits and that's one of the reasons why it's thought of as one of the best companies in the world.
"Sky News loses £40m a year and has absorbed $1bn of investment. It's very hard to make money out of news in a small market like the UK."
Media plurality
Former ITN chief executive Stewart Purvis, who is also a former senior executive at regulator Ofcom, is less pessimistic about the channel's future.
He points out that there are a number of issues to consider, including the possibility that Disney might not wish to go ahead with acquiring the remaining 61% of Sky, even if the CMA approved it.
In fact, the UK's Takeover Panel says Disney has told it that if Mr Murdoch fails to buy the rest of Sky before the Fox takeover deal goes through, it will not feel obliged to make a full bid for the satellite broadcaster.
Mr Purvis adds that it would be "slightly perverse" if Sky News were closed down over concerns that the various deals would lead to an unreasonable concentration of media power, because its absence "would actually reduce media plurality".
After all, the outcome would be to leave the BBC News channel unchallenged as the only dedicated UK television news service.
However, he adds: "I've never found Disney to be very interested in news. It's an entertainment company and maybe being in news is more trouble than it's worth."
Political kudos
Disney owns the ABC television network in the US, which includes its news service.
But as Mr Purvis says, ABC News is safe because it makes money.
"The way that networks look at their news programmes is that they look at the cost compared with advertising revenues within those programmes," he says.
"By that measure, ABC News is profitable. Good Morning America is the leading breakfast programme in the US. There's no way Disney would shut that down."
Sky News, of course, does not enjoy that kind of status. But Mr Purvis says Disney would have to balance that against other factors, including the "political kudos" that owning Sky News would give it in the UK.
"We don't know the outcome of that kind of consideration," he says.
News loses?
In the US, analysts are concerned that Disney's existing news interests might suffer from the merger, let alone Sky News.
"I would not look to the Disney-Fox merger to bolster the fourth estate," Ben Gomes-Casseres of the Brandeis International Business School told the Washington Post.
"Whether ABC News will be affected in this way, as a side-effect, is also anyone's guess, but there is no doubt that ABC as a TV channel will decrease in importance in the Disney group."
For the moment, Disney is taking a positive attitude towards Sky News.
Disney chairman and chief executive Bob Iger was asked on Bloomberg TV whether the channel had a future after his company completed the Fox deal.
He replied: "Absolutely. All of Sky has a future."
Cynics might reply that at this stage in the proceedings, he could hardly say he was going to close the channel. But if he does so once the deal has gone through, he may find that his assurance will come back to haunt him.